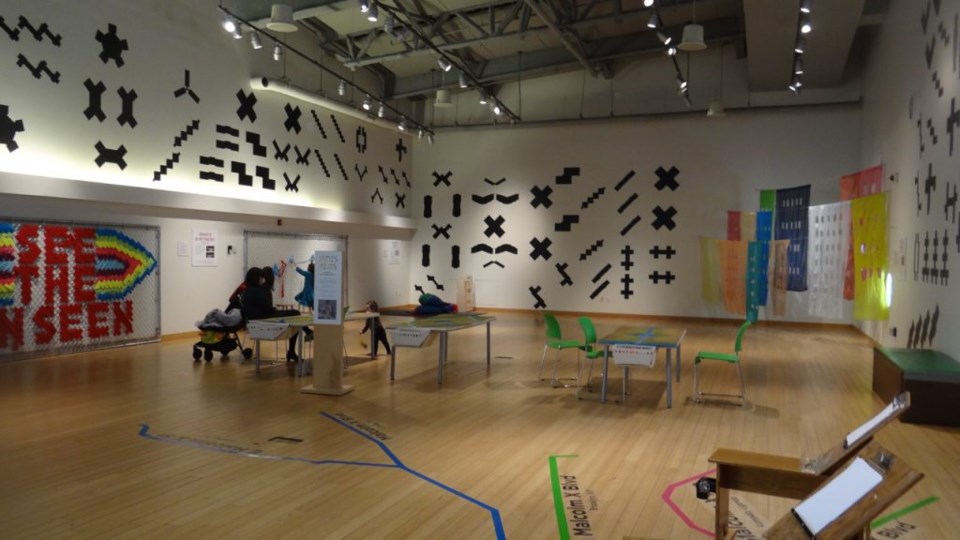 Gentrification. It's not just a "Brooklyn thing;" it's become a national phenomenon, spreading like a virus through most major cities and some suburban communities across the country. The socio-economic impact of gentrification on a community speaks to overall equity in opportunity and choice— not only where people are able to live, but also and ultimately, their quality of life.
As communities across Brooklyn continue to develop at breakneck speed, how should its resident begin addressing the changes happening around them, and at what point should the conversations begin? Because—just like a virus— once gentrification sets in, it's almost too late to reverse.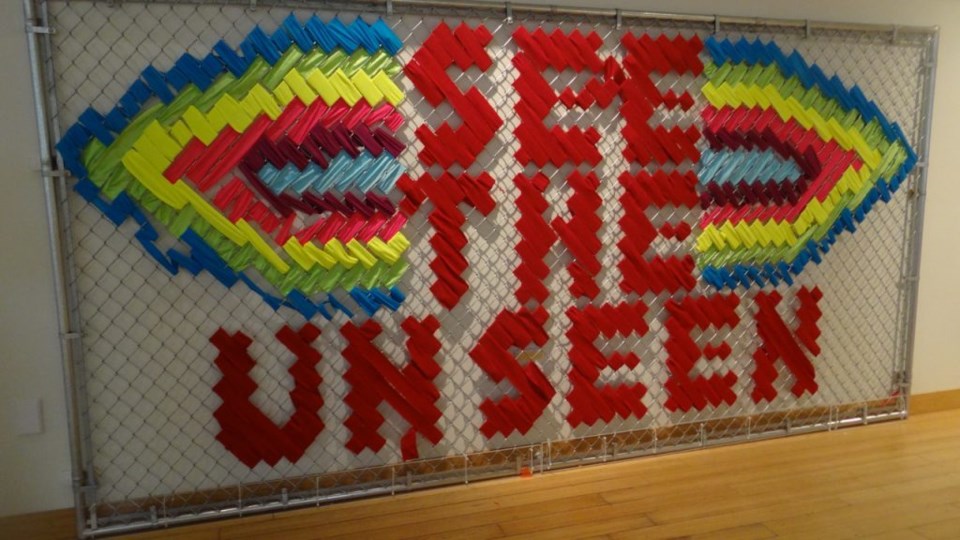 The Brooklyn Children's Museum felt gentrification was an important enough subject to begin thinking about early. On March 10, the museum launched Our City, an interactive exhibit on gentrification for 0 to 8-year-olds to inspire a child's awareness about the world around them and the elements that comprise a healthy community.
Hana Elwell, Brooklyn Children's Museum's director of Exhibits and Interpretation, said that before launching Our City, the curatorial staff spent a lot of time thinking and talking about the difficult aspects of gentrification and how to best introduce complex concepts to young minds in a meaningful way.
"The word 'gentrification' is not among any of our guiding questions, because that's definitely not a word at a reading level that we're going for," said Elwell of the exhibit. "Instead, we try to explore the concept of changing neighborhoods, changing buildings; who are the people in your neighborhood; what are the characteristics of a happy neighborhood; and how do you make your community a happy place?"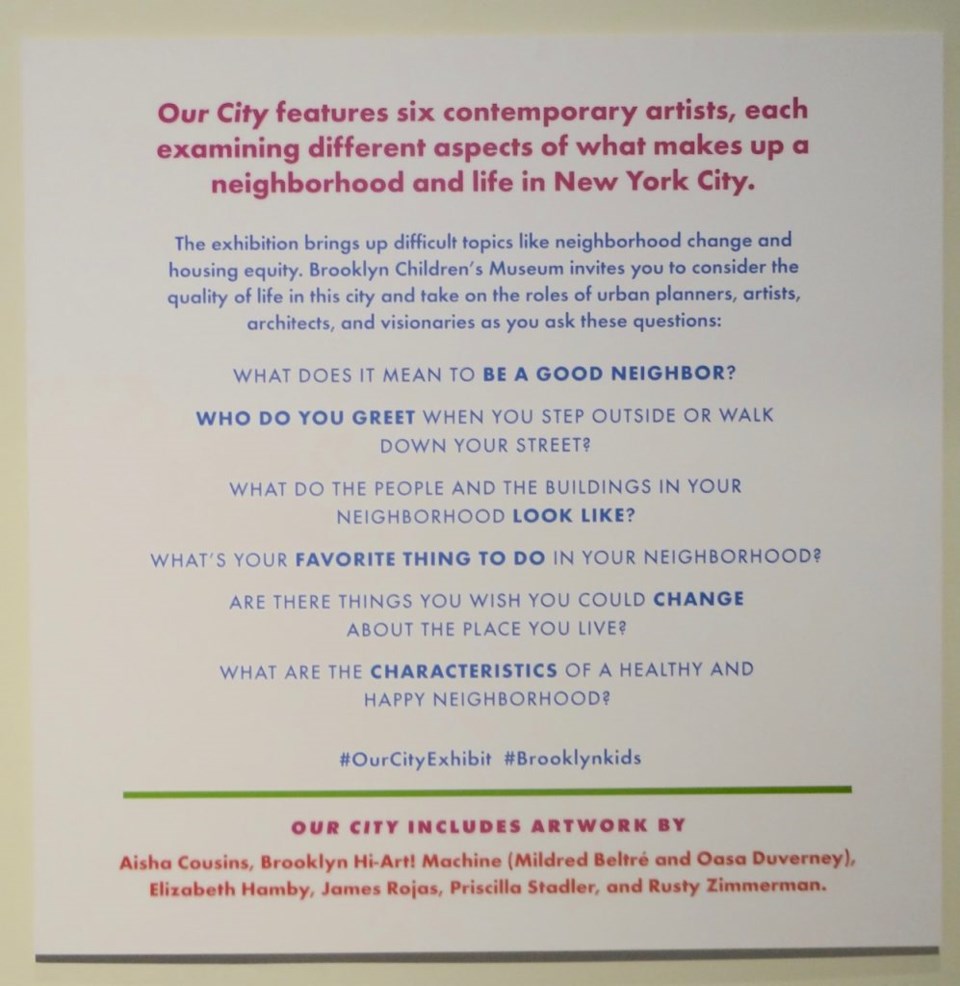 The exhibit features six artists-- Aisha Cousins, Brooklyn Hi-Art Machine (Oasa Duverney and Mildred Beltre), Elizabeth Hamby, James Rojas, Priscilla Stadler and Rusty Zimmerman-- each of whom focuses on a different aspect of what they feel informs an inclusive community. Each artist then contextualized their work so that children can unpack what they're witnessing through play, while also inspiring them to ask, How do I as one person relate to the whole? And how do my choices impact my surroundings?
Parents, children and school groups are invited to visit the exhibit to participate in structured and fun exercises led by museum staff. Each artistic component is accompanied by guiding questions that provide parents a roadmap for starting a discussion with their child. Children are encouraged to take on the roles of urban planners, artists, architects and visionaries, as they talk about the places they call home.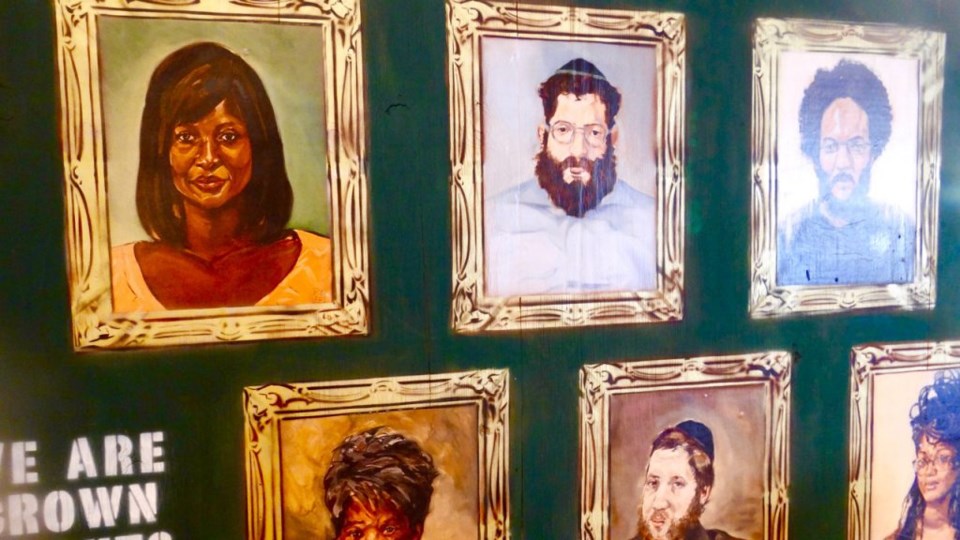 Rusty Zimmerman's Free Portrait Project features 200 portraits he's painting of Crown Heights residents over one year's time to show the historic continuum of past-to-present residents. Each resident participating in the project has to agree to complete a community service assignment. Zimmerman has collected each subject's oral histories that participants can listen to via a QR code. Children alsos are given miniature easels facing the mural and are encouraged to draw their own portraits of someone special to them in the community.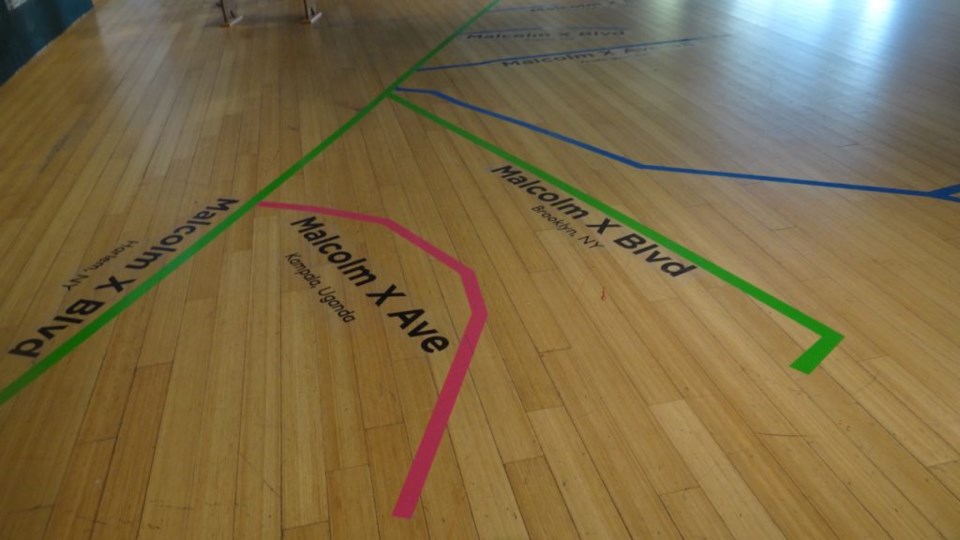 A walkable floor mural by artist Aisha Cousins explores the streets co-named after Malcolm X throughout the country with the idea that when you imbue a physical place with someone's name, it becomes a cultural site. The exhibit asks children to walk the lines and think about what leaders they would choose to name their streets and why?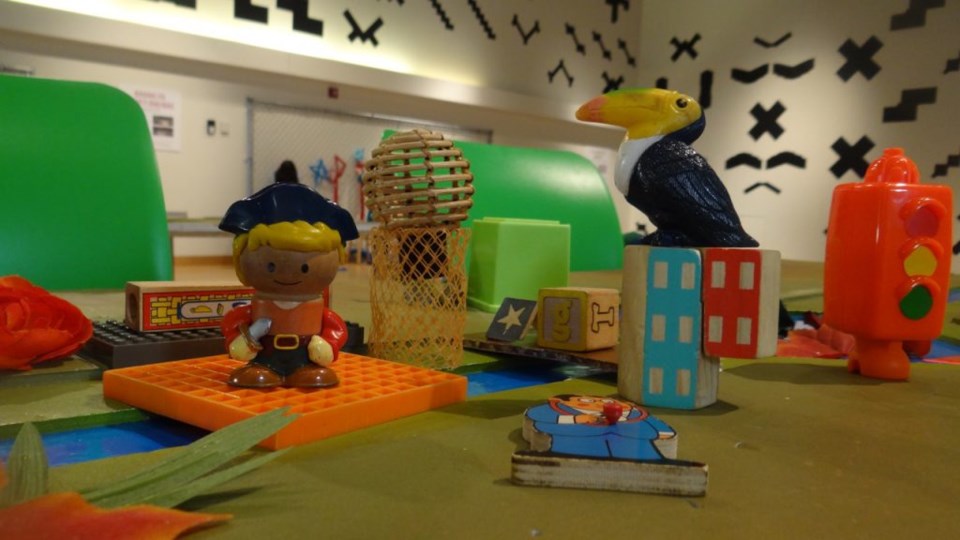 James Rojas is a creative artist with a background is in urban planning. His interest is in how people approach and inhabit the design of space. So he created an interactive urban planning model using geometric topographic surfaces on a table top laid out like a portion of a city block. Then, with found objects from around the city—figurines, blocks, flowers curlers-- the exhibit invites children to build their own ideal city.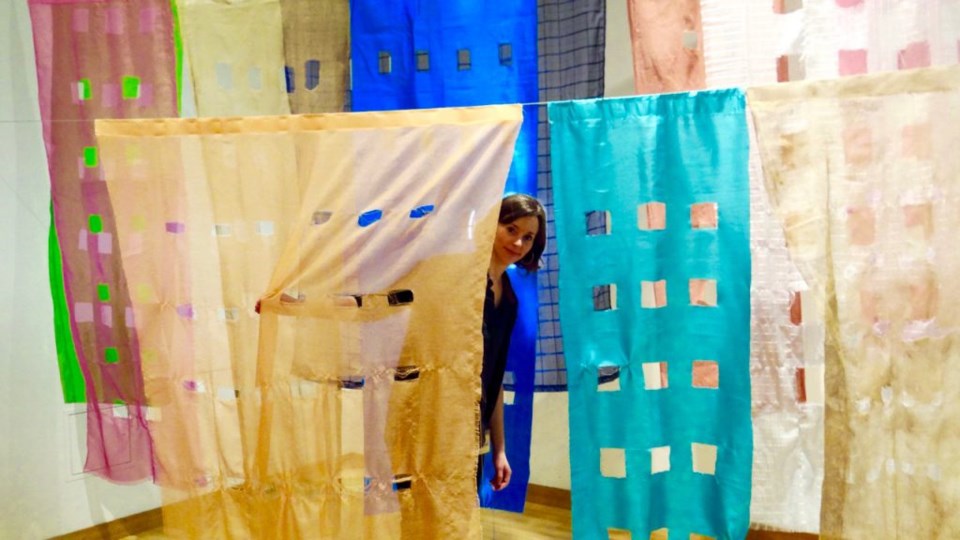 Priscilla Stadler's Fragile City explores the dichotomous relationship between fragile materials and hard facades. The idea is that you move through the piece, weave through the different lines and layers of buildings to get a perspective of what it's like to look through or at them from either side. The building also are moveable. "She's interesting in teaching of changing scenery and landscape," said Elwell. "As one building goes up, others go down; the idea of continual movement, and what's changing around you."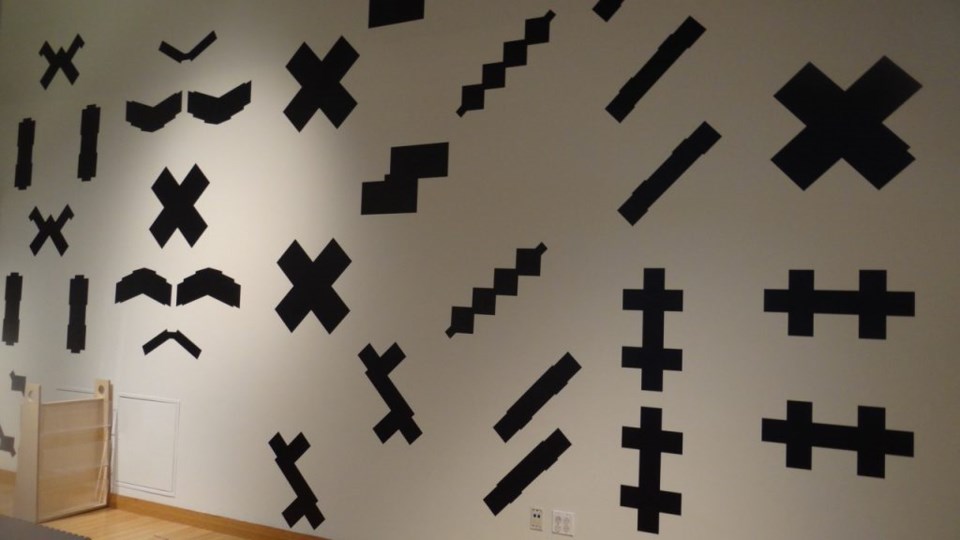 Elizabeth Hamby's Alphabet City speaks to the iconic landmarks of New York City. When people think about NYC landmarks, they think about the Statue of Liberty and The Empire State Building, when in fact NYCHA houses hold so much of the city's population—over 1 million people. "So she's looking at the architectural footprints and has created a composition/mosaic of the prints," said Elwell. "Adults seem really drawn to these shapes." The museum is working on completing large puzzle pieces from the shapes for kids to compose larger structures.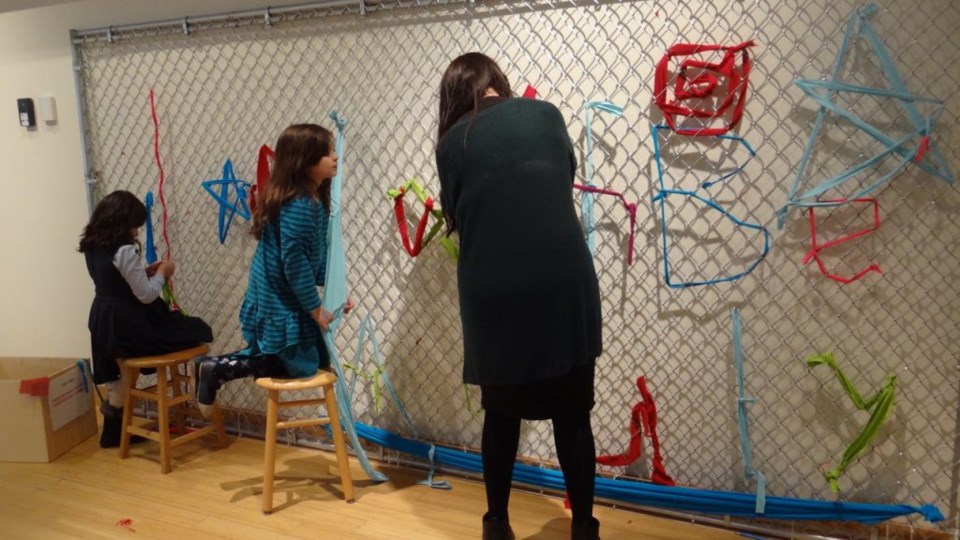 Oasa Duverney and Mildred Beltre of Brooklyn Hi-Art Machine's fence weaving project are known for crafting messages on fences across Brooklyn that are socially engaging and/or uplifting. Brooklyn Hi-Art Machine's exhibit provides colored cloth to allow museum participants to weave their own messages to the community.
"Kids' worlds are pretty small; they have a sense of their neighborhood, their neighbors and their path to school," said Elwell. "Overall, the exhibit exposes to them to the various layers of their community, while also helping them gain a sense of agency."
Our City is a laudable effort by the museum in raising important questions-- for both children and adults— around community development, planning, equity and inclusion through imagination and play. Ironically, through the eyes of a 5-year-old, addressing gentrification—a weighty and unwieldy subject that not even adults can seem to handle— feels almost within reach.
Our City will be on view in BCM's second floor gallery from March 10 to September 4, 2016.