The new partnership for the newly opened, 60,000-square-foot food hall in Downtown Brooklyn will bring a number of local, regional and international food and drink vendors to this year's Movies With A View series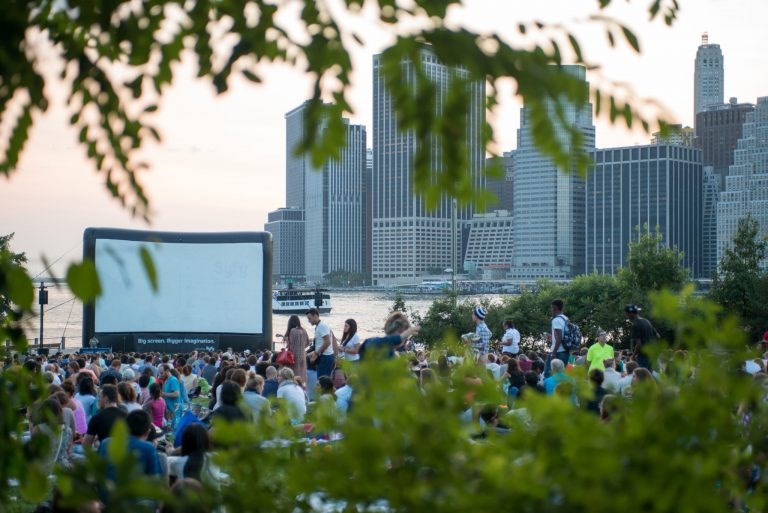 The "Movies With A View" series held each year by Brooklyn Bridge Park Conservancy has partnered with Dekalb Market Hall! This year's series, which kicks off on Thursday, July 6, and runs weekly on Thursdays through August 24, will now offer food and drink vendors during its twilight screenings, with pre-show music beginning each evening at 5:00pm.
Now in its 18th year, Movies With A View, located at 1 Main St Brooklyn Bridge Park, attracts thousands of people each summer to the waterfront park. The theme for this year's 8-week-long film series is "Resistance," and it will highlight issues of race, gender, protest and triumph.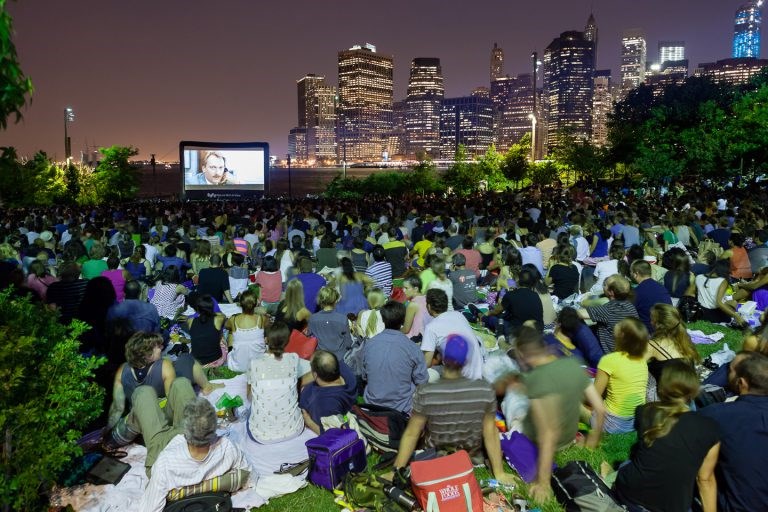 Some of this year's highlights include Kotti Doner, Steve's Key Lime Pie, Foragers Sandwiches, Cake Pops from Cake Pop Shop', and cool beers and tasty wines from Warsteiner and Oak Beverages.
"What could be more Brooklyn than Movies With A View?" said Anna Castellani, managing partner of DeKalb Market Hall. "It's a summer ritual, and DeKalb Market Hall is thrilled to be there to make it even better."
DJs from Brooklyn Radio will spin pre-movie music, and BAMcinématek will curate short films to be shown before the feature each week. Also returning are the New York Amateur Astronomer's Association to help stargazers scan the skies, and Transportation Alternatives with its free bike valet parking.
"We are excited for another summer filled with captivating films, and are grateful to our community partners, Brooklyn Bridge Park, and all who come and enjoy the series," said Devin Mathis, the Conservancy's Director of Programs.
For more details, go here.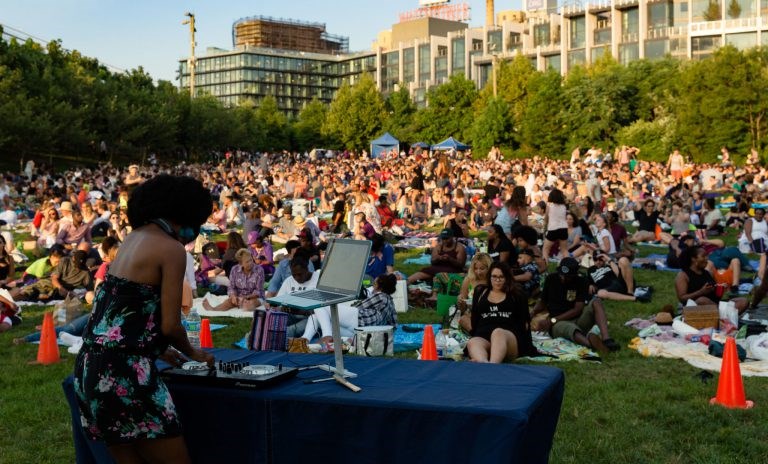 MOVIES WITH A VIEW FULL LINEUP
July 6
Office Space (1999, R)
Short: Legal Smuggling by Lewie Kloster
DJ Atropolis
July 13
Pariah (2011, R)
Short: Bayard & Me by Matt Wolf
DJ Reborn
July 20
Casablanca (1942, PG)
Short: Victor & Isolina by William D. Caballero
DJ Emch
July 27
The Lego Movie (2014, G)
Short: All The Things by Chris Guyot, The Rusted Pixel, and John Poon
DJ Isis Swaby
August 3
9 to 5 (1980, PG)
Short: Girl Boxer by Emily Sheskin
DJ Ripley
August 10
42 (2013, PG-13)
Short: LOSTFOUND by Shakti Bhagchandani
DJ Chibuikem & DJ Quesquecest?
August 17
Mad Max: Fury Road (2015, R)
Short: The Rabbit Hunt by Patrick Bresnan
DJ 100dbs
August 24
Public Vote: Footloose (1984, PG), Dear White People (2014, R), or
Network (1976, R)
Short: Have No Fear by Beata Calinska & Sarah Jacobson
DJ Hahn Solo