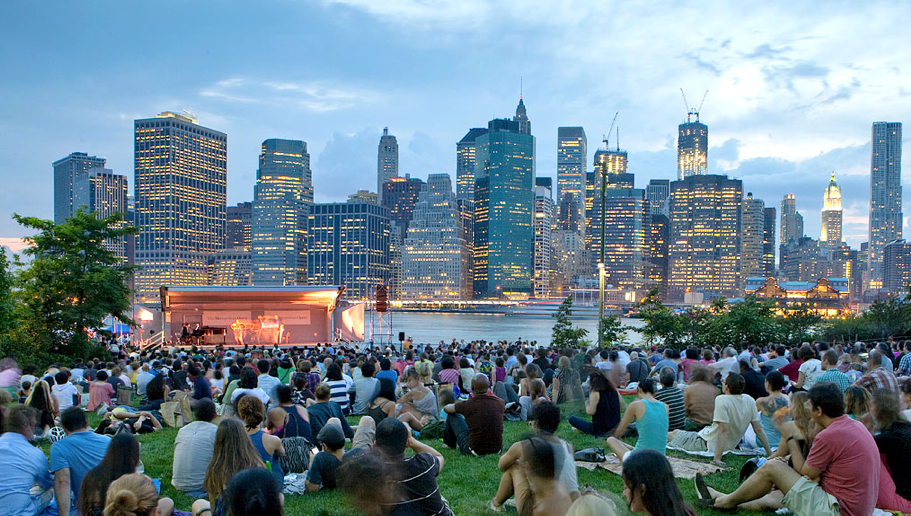 As Central Brooklyn develops and expands, so too increases the area's list of free events, shows and activities. And probably no other public space has shown the fastest and most impressive growth as Brooklyn Bridge Park!
With over 500 free and low-cost programs in the areas of arts and culture, fitness, education and recreation that overlook the East River and showcase the Manhattan Skyline, Brooklyn Bridge Park has become a favorite destination for summer fun.
In 2015, Brooklyn Bridge Park saw over 127,000 visitors during the course of a summer weekend. This summer, with the openings of DUMBO Boulders and ONE°15 Brooklyn Marina, the park is expecting attract its highest number of visitors to date!
Get ready Central Brooklyn: Brooklyn Bridge Park Conservancy (Conservancy) and Brooklyn Bridge Park (BBP) have officially announced their full lineup of free events and activities for 2016's spring and summer season, beginning April 23 through September 25!
Returning to the park are long-time audience favorites:
Movies With A View
Books Beneath the Bridge
The Metropolitan Opera
Jazzmobile
World Science Festival
All The Park's A Stage
Additionally, Community Room at 99 Plymouth features a number of exciting installations over the coming season. In April and May, the Village Community Boathouse will lead volunteers in constructing a 15-foot Whitehall rowboat. Artists Colleen Flanigan and Judith Pleva highlight New York's native oyster reefs in their immersive installation in June. Rush Kids and Teens participating in their Summer Session will create two fantastical murals inspired by the surrounding landscape and the work of artist Xenobia Bailey.
Also, on May 4, the Public Art Fund will debut Martin Creed's Understanding at the end of Pier 6. The 25-foot-tall rotating ruby red sculpture was commissioned specifically for Brooklyn Bridge Park and is Creed's largest public sculpture to date. In partnership with United Photo Industries and Photo District News, The Fence will return to Brooklyn Bridge Park in June for its fifth consecutive year. The installation presents the work of talented photographers from all around the world.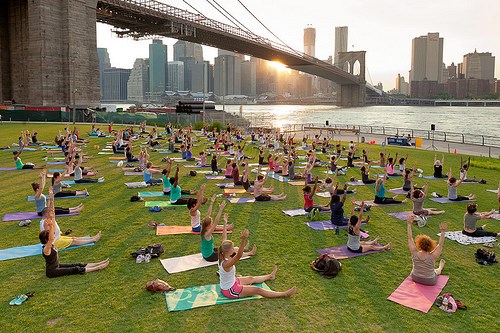 For the fitness lovers, Double Dutch, Broadway Dance, and Zumba will return; while new classes GRIT and Piyo promise to keep seasoned participants on their toes.
Also included on the roster of activities are family programs such as Pier Kids — a weekly celebration of arts, singing, dancing, and performance at the newly opened Pier 6 — seining, kayaking, a Hindu Lamp Ceremony, and our annual Kite Festival. The return of the Conservancy's Family Field Days will welcome families to Piers 2, 5, and 6 to play games ranging from soccer to bocce.
Learn about the history, ecology, and design of Brooklyn Bridge Park with their Wednesday night tour series. Tickets available here.
"As we usher in the warmer months, we look forward to welcoming New Yorkers and all visitors to explore the Park's diverse landscapes, views, installations and the Brooklyn Bridge Park Conservancy's wonderful events," said Nancy Webster, Executive Director of the Brooklyn Bridge Park Conservancy.
To see the full events calendar, click here.