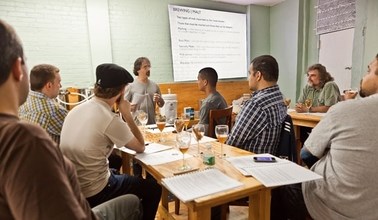 Amid ambitions artists, tactful business minds and passionate teachers, New York City can be described as a wealth of opportunity for anyone interested in gaining knowledge. Although young and eager minds often flock to the world-renowned college campuses in New York City, one Brooklyn-based company is perfecting the community learning model to offer classes for New York adults at every skill level. Brooklyn Brainery, situated at 190 Underhill Ave. in Prospect Heights, presents inexpensive casual classes and workshops that enable students to tackle something they have always wanted to learn in an environment that is familiar to them.
With courses that feature dynamic lessons in physics , Australian desserts, HTML and a wide array of topics in between, this crowd-sourced learning community is helping Brooklynites feel empowered to take the next step towards learning something new. Unlike most educational institutions, all of the classes offered at this facility came from the mind of community members, teachers and those with knowledge that had a strong urge to share.
There are no steep educational background or referral requirements for individuals who want to teach a class or a workshop at Brooklyn Brainery. As long as an individual has the passion and know-how necessary to teach others, they can jump right into teaching a one of the one or two-week long courses.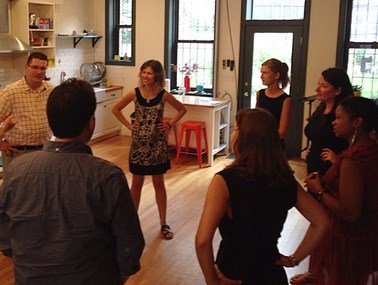 For eager adults who want access to the courses without the commitment of a classroom environment, the Brooklyn Brainery staff developed Dabbler. This well-curated package on a specific topic is delivered to the student's email inbox to help them discover a new hobby, gain a new skill, do a fun project, or learn something useful. Apart from serving as a wealth of community knowledge, Brooklyn Brainery has effectively become one of the most cost efficient options for something interested in taking specialized classes in New York City.
In an interview with Brooklyn Brainery's co-creator, Jen Messier, who began her career working in fundraising at The Metropolitan Museum of Art, we get a glimpse of how this small idea became a big community effort.
BK Reader: Brooklyn Brainery is such a vibrant name for this space. How did your team decide on the name?
Jen Messier: We spent a ton of time brainstorming names with school-related words and came across "brainery" which is an old term for a school, so we went with it!
BK: How do you decide which classes are appropriate for the Brooklyn Brainery?
JM: We try and keep classes short and low-commitment since everyone in New York is always quite busy! And we especially like classes that help you explore a topic or craft that can be hard to explore on your own, without a huge investment of time or money. That way, if you find you really like a subject, you can choose to explore more on your own.
BK: When you think of success, what does that mean for Brooklyn Brainery students?
JM: I love seeing when students take what they learned in class and really dive into the subject matter. It happens a lot with crafty classes, where someone will take a beginner's knitting or embroidery class, then come back later and we get to see the amazing things they've made.
For more information on the class, workshops or events hosted by Brooklyn Brainery, please
click here
.