On a crisp November morning, artist Katie Merz sipped green tea at a Boerum Hill coffee shop, just a few blocks from her apartment and from the work she's best known for -- a gargantuan black-and-white mural on the façade of a building at 80 Flatbush Avenue.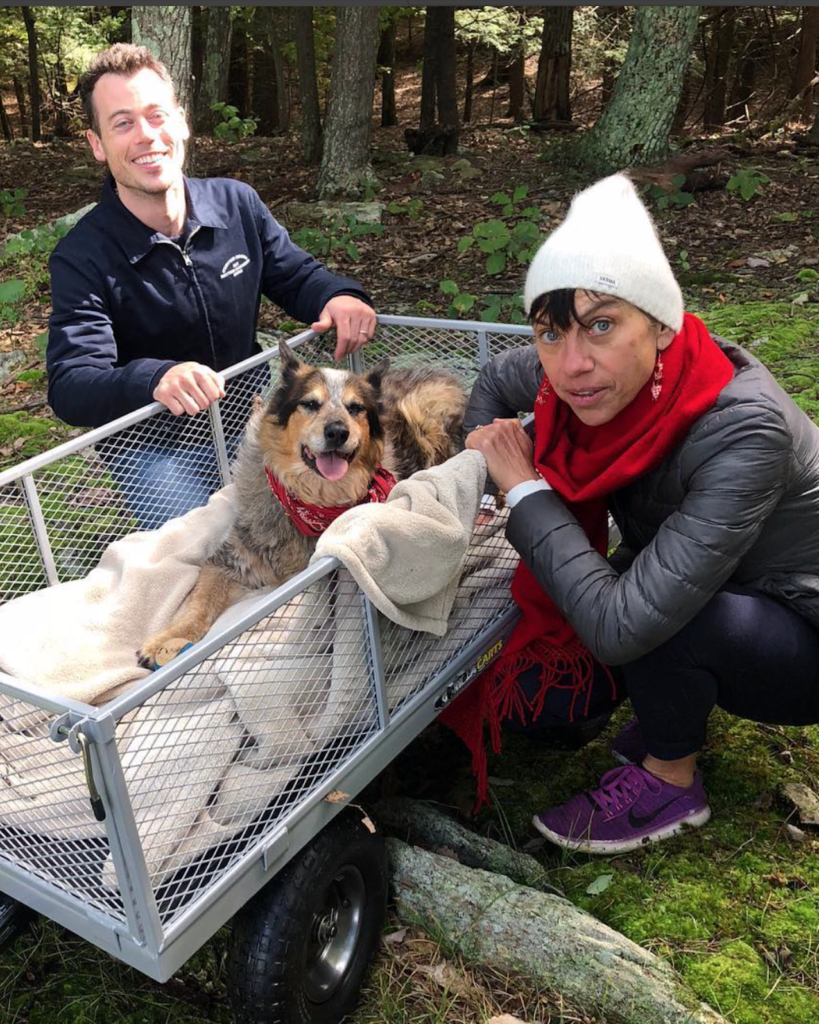 Despite the chill, we sat outside to be near Tigey, Merz's grizzled 17-year-old cattle dog who accompanies her on every job.
"She was on the scissor lift yesterday. By the time she got up there, she started falling asleep and we had to step around her," Merz said.
The 57-year-old Brooklyn native has been a working artist for decades, with dozens of gallery shows, residencies and awards to her name. Just this year, Merz's alma mater, The Cooper Union of Fine Art, presented her with the Augustus San Gaudens Lifetime Achievement Award and inducted her into the school's hall of fame.
Until recently, Merz worked primarily as an indoor gallery artist, a professor and a creator of cartoon and poetry collages that defy categorization. It wasn't until 2016 that the majority of her work moved outside. During a residency in Nebraska, she began experimenting with her now-signature street art style of white hieroglyphs over a dark background, rooting each mural in a theme and incorporating works of literature or spoken word.
"I was reading Rilke, and I took a sentence and broke it down into hieroglyphs so I could read it back to myself in pictographic form," she said. "I needed structure, and the text was a structure. I wasn't just doing random stuff."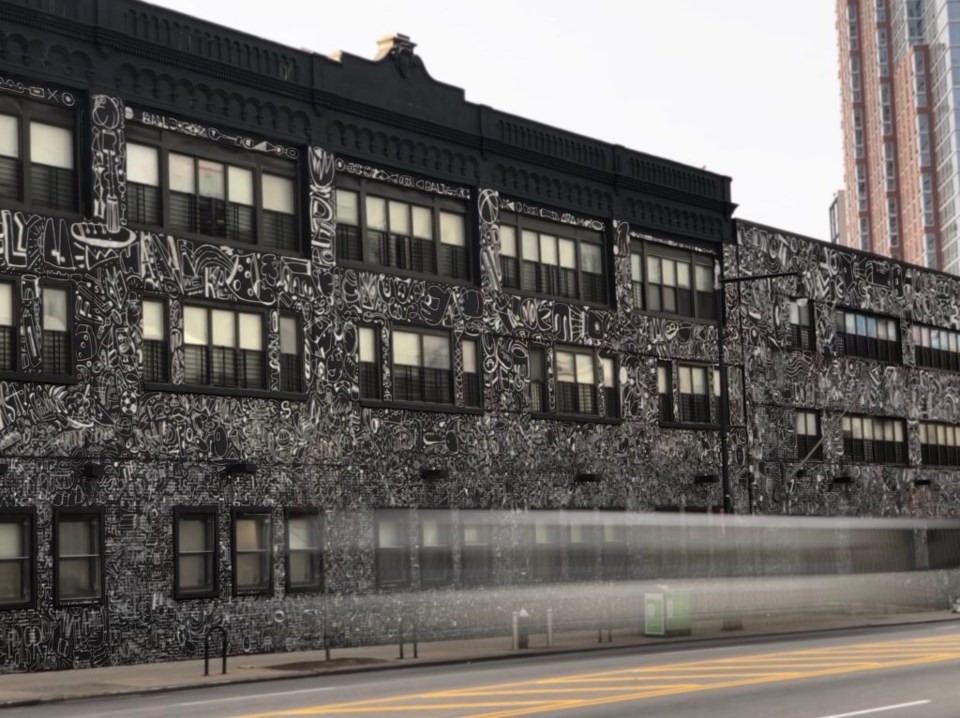 Unlike most muralists, Merz doesn't pre-plan or map her work using Photoshop. She bases it loosely on a text, then makes it up as she goes along. With over 17 projects completed in the past two years, that improvisational approach seems to be gaining her momentum.
For her 2016 project in Monterrey, Mexico, Merz put out a call for strangers to stop by and tell their stories as she covered a water distillation plant with pictographs based on their words. The same year in Williamsburg, she drew on the face of a brick building at 347 Berry Street while a friend read to her from history books.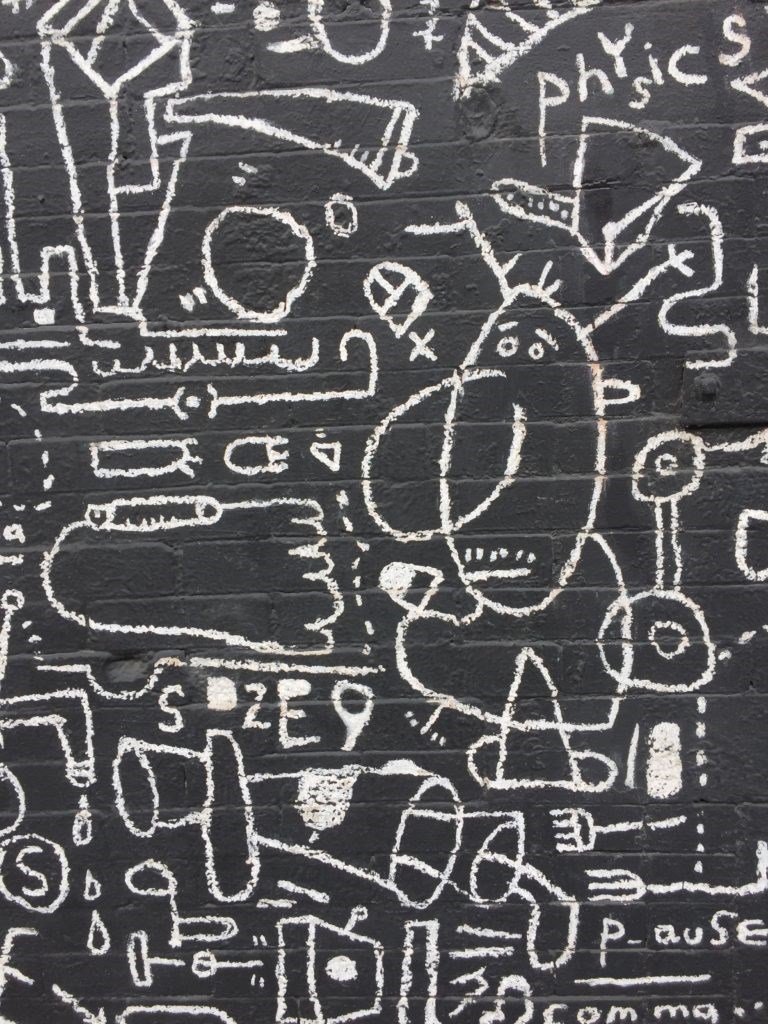 For the mural at 80 Flatbush Avenue, Merz riffed on Brooklyn as a theme. She spoke with each passerby who stopped and found a way to include all of them. With only two months to complete the project and over 8,500 square feet to cover, there was plenty of space for everyone.
"I can't believe I did that," Merz said. "It's like I had a whale for a child. It's like I gave birth to this giant thing."
Merz's current project, a bright blue Citi Bike warehouse in Bushwick, uses architectural blueprints and texts as a framework. Having been raised by two architects, it's a subject she knows cold.
"Growing up they had their office on the top floor. I'd see the right angles and working drawings. It was so fascinating to me, how these drawings could become a building," she said. "So now I'm doing it backward, reading this book on architecture and putting it on the wall."
After the Bushwick mural is complete, Merz hopes to get commissions for other projects along Flatbush Avenue. She also is working on a collaboration with essayist John D'Agata, a friend who teaches at the University of Iowa in the creative writing department. Merz hopes to cover a massive parking garage in Iowa City with hieroglyphs based on interviews with public school students conducted by D'Agata's pupils; they are currently in negotiations with the city about the proposal.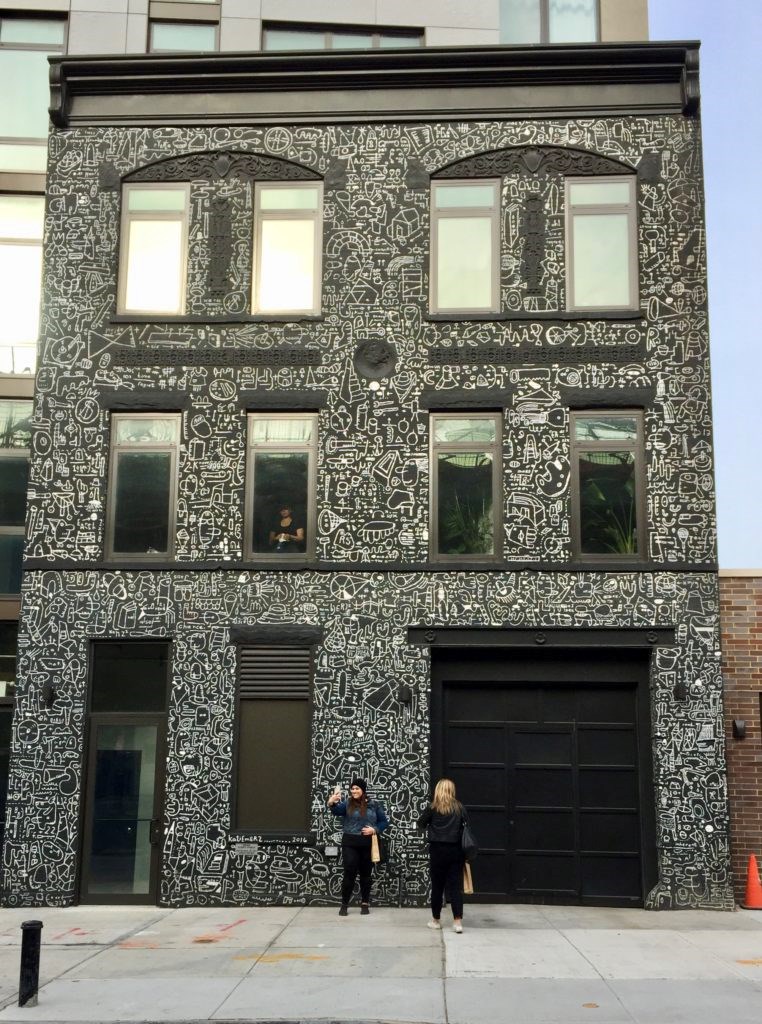 Whether that project pans out or not, Merz feels she's found her niche within the approachable, democratic discipline of street art, and she's eager to do more.
"In a way, it's a crazy act of generosity," said Merz. "You get to share what you're doing with everyone and you don't know anyone who's seeing it. Like Flatbush, I have no idea who's seeing it, but all of these people get to enjoy it. And I think that's so much more wonderful."
To see more work by Katie Merz, check out the gallery below or follow her on Instagram. All photos are courtesy Katie Merz /IG.