In case you didn't know, BK Reader has the 411 on what's poppin' in Brooklyn: THE best, the flyest and the most robust events calendar in Kings County!
Because it's the weekend and you're special, BK Reader has pulled together our calendar picks of the hottest events in Brooklyn to keep you entertained!
Say "no" to FOMO, and just thank us later … Or go here to check out the calendar, and choose for yourself!! And oh yeah, feel free to upload your events here too!

FRIDAY
WHAT: Sculpture show by artist Jon Bunge at Established Gallery
WHEN: Nov. 25, 3:00pm-8:00pm
WHERE: Established Gallery, 75B 6th Ave., Brooklyn, NY
PRICE: Free
Established Gallery is pleased to present "Seeking the Sacred," a solo show by artist Jon Bunge.
Bunge, who holds an MFA from the City College of New York and a Master's in Divinity from Union Theological Seminary, sees the sacred that is present in nature. His elegant, evocative sculptures are made entirely from different varieties of tree branches.
"I love to inspect the twigs to see how they send forth new branches. I find the passages where the twigs divide to be beautiful; the new growth suggests hope for the future," said Bunge.
The movement of the sculptures and the shadows they create also play important roles in the work. This exhibition will be dramatically lit to emphasize each piece's unique shadow.
"I find the contrast between the sculpture and the shadows to be captivating, and the shadows to be mysterious. They are immaterial and ephemeral; with the flick of a switch, they are gone," said Bunge.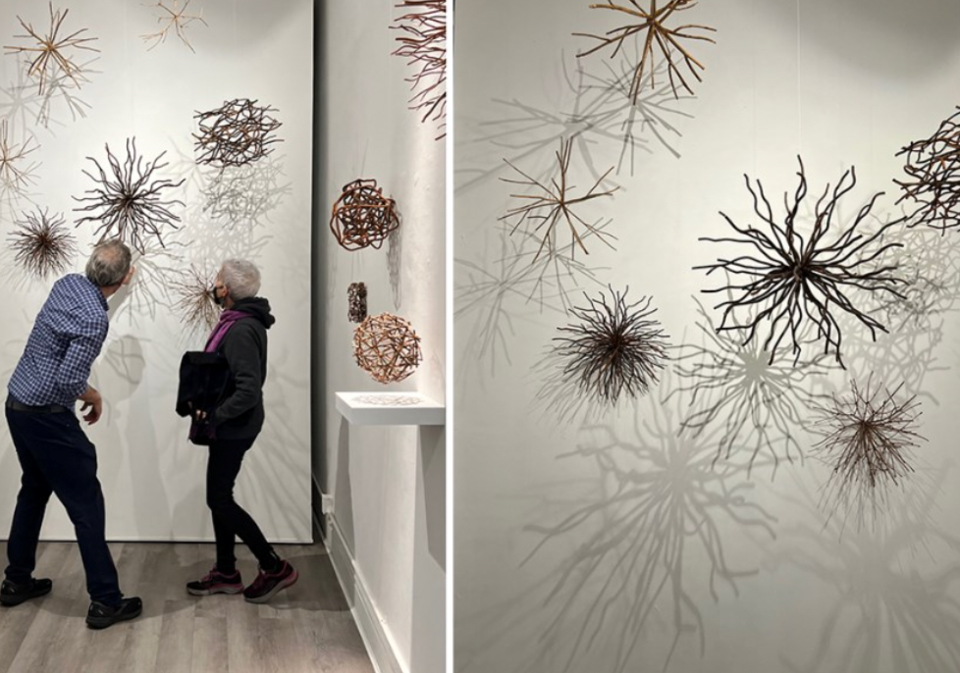 WHAT: STRICTLY '80s-'90s BROOKLYN EDITION
WHEN: Nov. 25, 9:00pm 'til late
WHERE: A LOFT, 824 Alabama Ave., Brooklyn, NY
PRICE: $44.34
Remember Brooklyn parties in the '80s and '90s? Get down this Friday night in East New York and party to some favorite throwback hits from the hip hop, R and B and sound system legends themselves. Performances from Stone Love, LP International, Pretty Posse, Nexxt Level and Massive B, among others.
Click here for more information.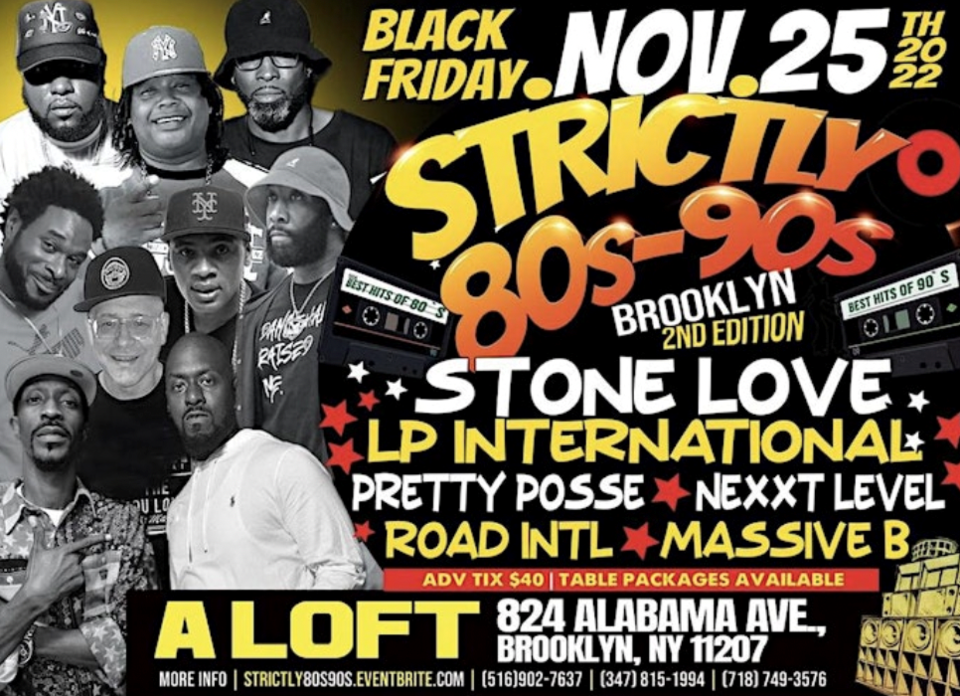 WHAT: ArtRink at Brooklyn Children's Museum
WHEN: Nov. 25, 10:00am-5:00pm
WHERE: 145 Brooklyn Ave., Brooklyn, NY
PRICE: $10 per person (skates included), and purchase of general admission tickets is required. ArtRink add-on tickets for BCM Members are $8 per person, and general admission is free.
ArtRink, BCM's outdoor skating rink and art exhibition, is back this year and bigger and better than ever! Grab your winter coat and warmest pair of socks and join BCM on our rooftop for a magical winter experience in the heart of Brooklyn.
Strap on your skates and glide around a 3,000-square-foot synthetic-ice skating rink, surrounded by an art exhibition showcasing the work of local artists. Take a stroll through our kids-sized Winter Village, five interactive playhouses each designed by a different artist.
Every year, ArtRink is unified by a unique theme that inspires the spirit of the exhibition as well as the selection of art. This year's theme, "It Takes a Village," presents creative interpretations of how communities come together to create positive, safe, and healthy environments and work toward a bright future.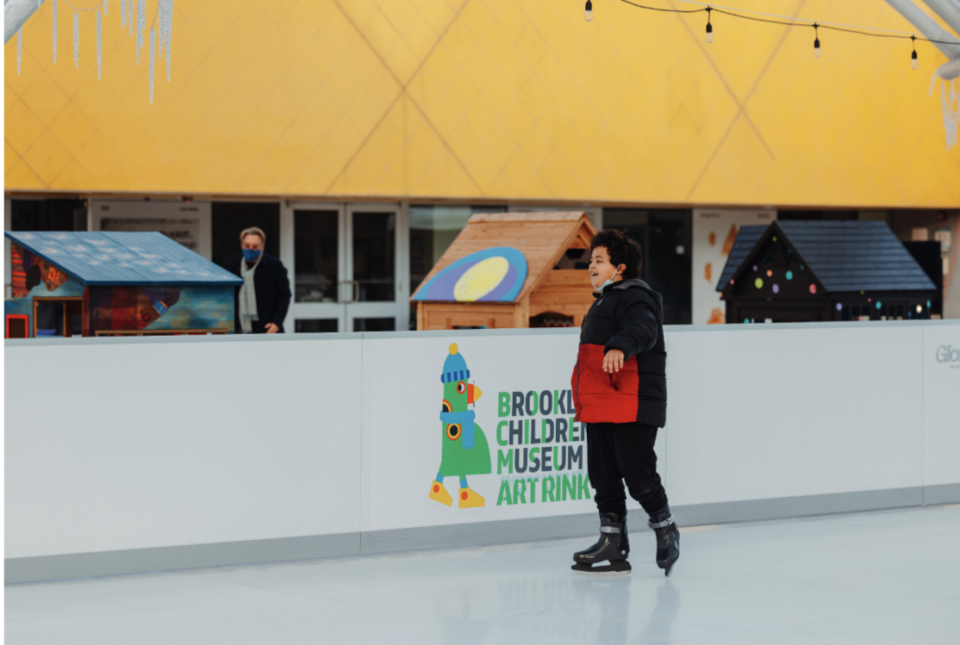 SATURDAY
WHAT: Bed-Stuy Gateway BID Winter Wonderland
WHEN: Nov. 26, 2:00pm-8:00pm
WHERE: Marcy Avenue Plaza, between Fulton Street and MacDonough Street
PRICE: Free
In celebration of Small Business Saturday, Bed-Stuy Gateway Business Improvement District will once again bring its signature Winter Wonderland event to Brooklyn's central neighborhood. The festive outdoor holiday shopping experience provides local merchants an opportunity to increase foot traffic, while offering crafters, creatives and small business owners a viable platform to showcase and sell their goods and services.
The pop-up holiday marketplace kicks off on Nov. 26, and runs Thursdays and Fridays from 4:00pm to 8:00pm and Saturdays from 2:00pm to 8:00pm, through Dec. 23.
Immediately following the 2:00pm ribbon-cutting ceremony on Nov. 26, patrons will be treated to a festive fashion showcase presented by Brooklyn's own Moshood Fashion.
"Small businesses are every neighborhood's beating heart, and with Winter Wonderland, the Bed-Stuy Gateway BID celebrates Bed-Stuy's prolific creativity and entrepreneurial flair," said Deborah Marton, Van Alen Institute's executive director.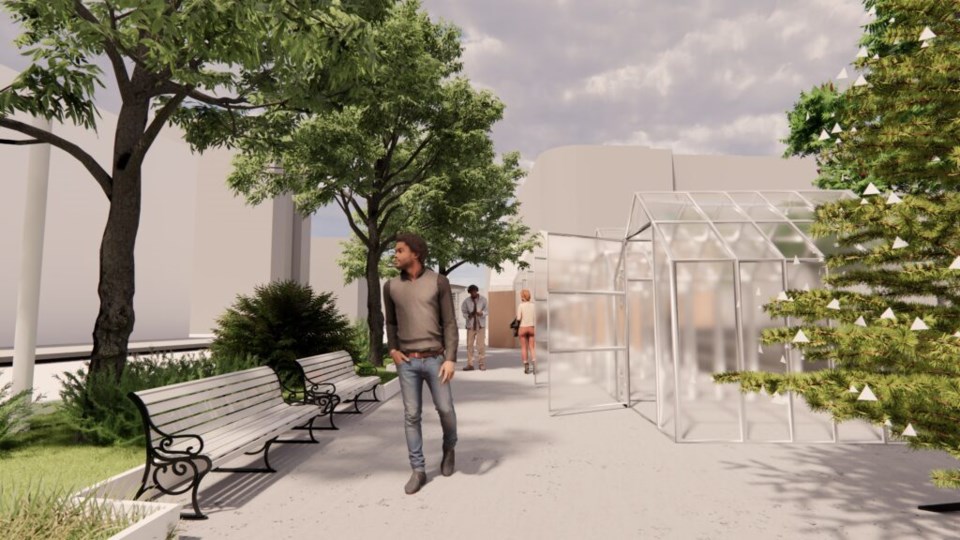 WHAT: Cocktails at Industry City's Makers Guild for Small Business Saturday
WHEN: Nov. 26, 2:00pm-5:00pm
WHERE: Industry City, 51 35th St., Brooklyn, NY
PRICE: Free
This Small Business Saturday, enjoy complimentary cocktails while shopping at The Makers Guild at Industry City, an immersive, next-generation shopping destination where design studio meets retail. Cocktails, courtesy of Fort Hamilton Distillery, are made with signature rye whisky and specialty barrel-aged maple syrup.
Industry City is a 16-building creative campus and home to heated courtyards, an outdoor ice rink, countless dining options, ongoing holiday market pop-ups, art installations and a vibrant ecosystem of locally owned companies, making for a perfect holiday shopping day.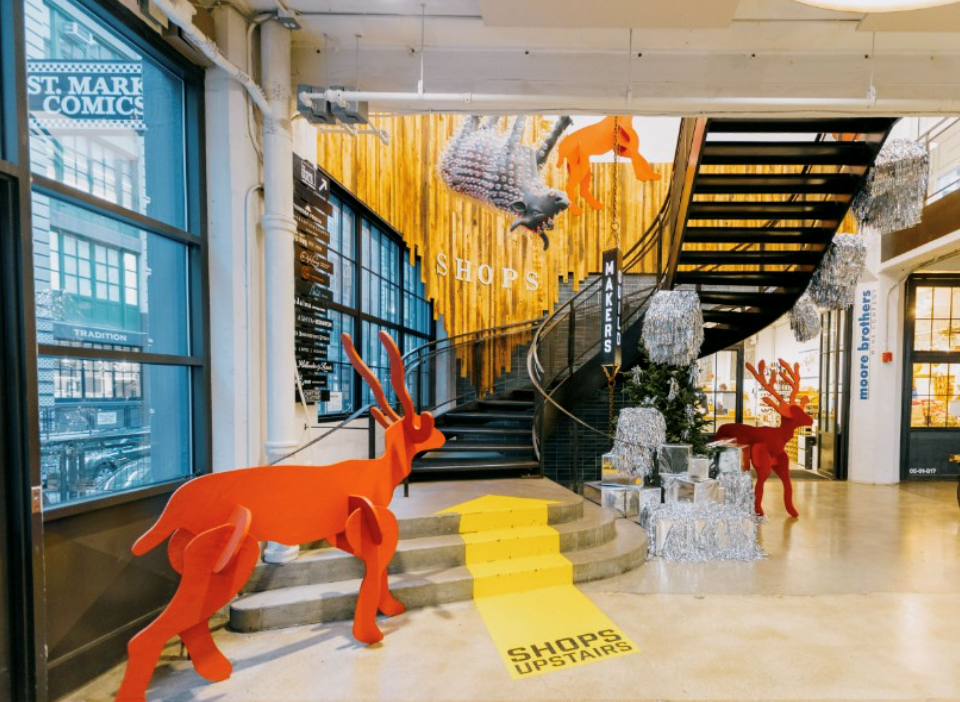 WHAT: Open Hours at Environmental Education Center
WHEN: Nov. 26, 1:00pm-5:00pm
WHERE: 99 Plymouth St., Brooklyn, NY
PRICE: Free
Explore Brooklyn Bridge Park like never before during open hours at the Environmental Education Center.
The Environmental Education Center is now open for free, drop-in hours three afternoons a week in Dumbo, Brooklyn! Get to know Brooklyn Bridge Park with monthly educational themes, a 250-gallon aquarium filled with critters from the East River, a 10-ft scale model of Brooklyn Bridge Park, crafts, a reading corner and much more.
Open Hours offer the opportunity for self-led investigation with guidance by expert educators to reveal the hidden stories within and around Brooklyn Bridge Park.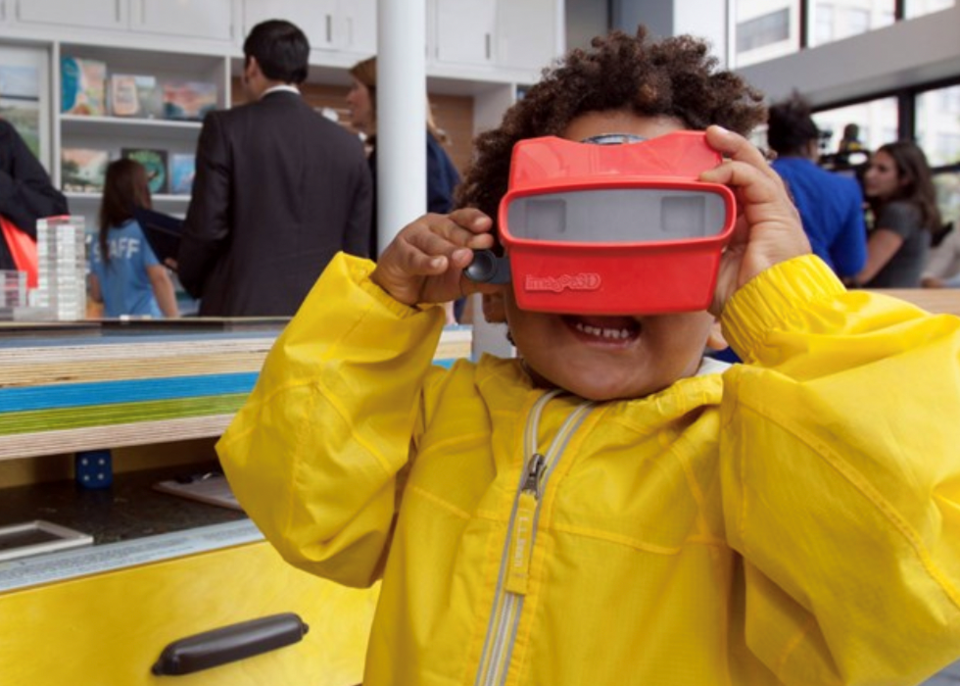 SUNDAY
WHAT: Gallery Tour: A Few of Our Favorite Things
WHEN: Nov. 27, 1:00pm-2:00pm
WHERE: Brooklyn Museum, 200 Eastern Pkwy, Brooklyn, NY
PRICE: Free with Museum admission
Join one of our A.R.T. Guides for a free tour through our galleries. The Brooklyn Museum's cohort of volunteer educational guides will share a few of their favorite artworks and explore what makes them unique. Meet in the Rubin Lobby, first floor.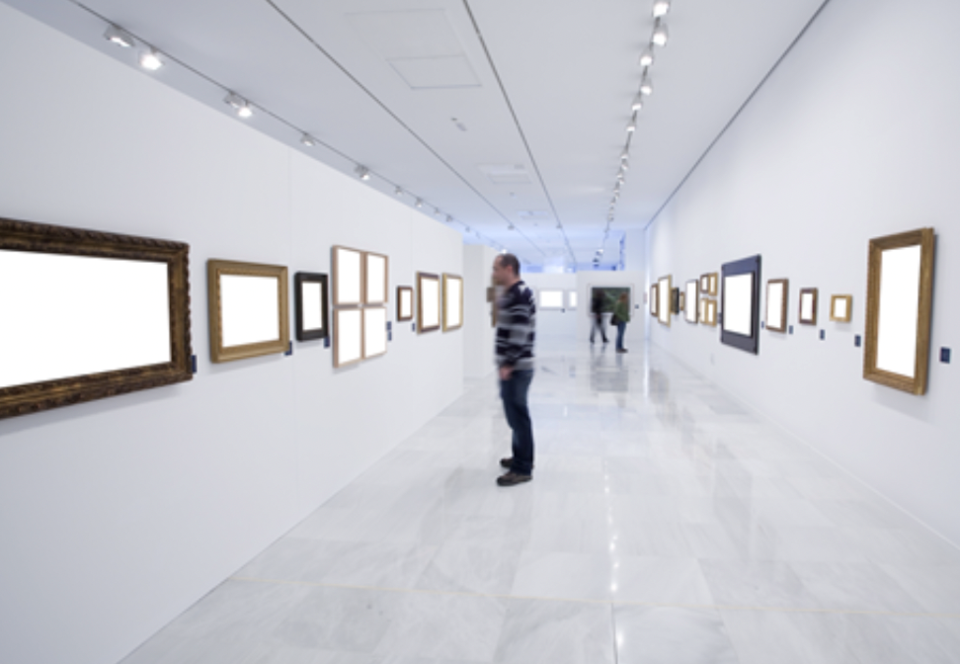 WHAT: Natural Hair Fest
WHEN: Nov. 27, 10:00am-6:00pm
WHERE: 228 Duffield St., Brooklyn, NY
PRICE: $15
Celebrate your natural texture and learn about the latest styles and innovations in haircare in Brooklyn this Sunday. This year's one-day festival not only celebrates the art and beauty of hair but also promotes proper care and maintenance regimens for healthy, happy hair and scalps.
At the festival, there will be product demonstrations, panel discussions and opportunities to mix and mingle with textured hair professionals, influencers and experts.