The Caribbean Festival invites children of all ages to experience Caribbean culture through art, food and music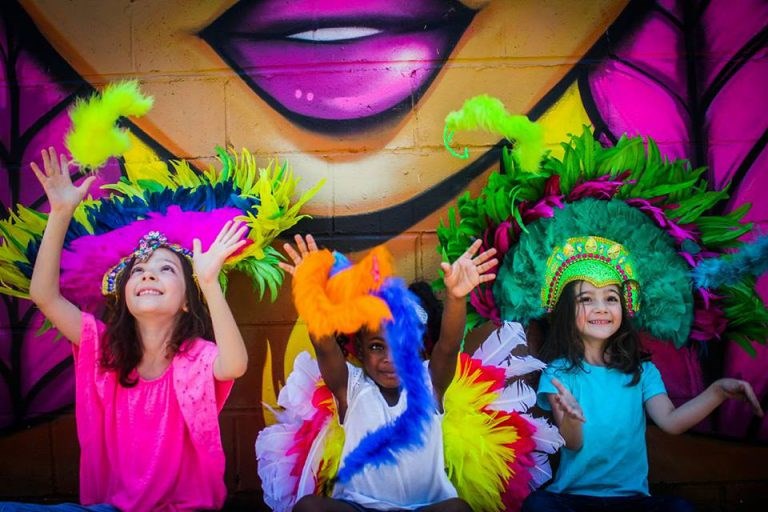 This weekend, the Brooklyn Children's Museum will host its annual Caribbean Festival, inviting children of all ages to experience Caribbean culture through art, food and music. The two-day fest will feature arts and crafts, a how-to-make Jamaican punch demo and Caribbean storytelling. Kids can also gear up for the coming carnival season by making festive crowns!
Little artists are welcome to join the museum's Totally Tots Art Studio to learn about Bahamian artist Lavar Munroe while making Caribbean carnival collages. The pint-sized studio is particularly designed for the museum's youngest visitors to explore techniques, materials and ideas through art-making, while developing their fine motor skills and engaging in sensory exploration.
On Saturday, visitors await a special musical treat with performances by Father Goose, a Jamaican-born producer, singer and songwriter who will sing life into nursery rhymes over reggae beats. The next day, Bobcat Kids will turn the museum into a tropical dance fete, trying to get the little bodies moving and grooving!
Have a look at the full schedule of events. Fulljoy!
Totally Tots Studio - Caribbean carnival collages, Saturday & Sunday, 10:00am - 12:00pm / (ages 2.5 — 5)

Play with Your Food- Jamaican Punch station, Saturday & Sunday, 11:00am - 11:45am / Young participants can learn the botanic origins and taste the flavors of ingredients and spices used to make Jamaican fruit punch - (ages 3+).
Crown Creations with WIADCA , Saturday, 1:00pm to 3:00pm/ (ages 3+)
Sylvia's Story Corner- Caribbean Tales, Saturday, 1:30pm - 2:00pm & 3:00pm - 3:30pm / In the story corner children can learn about Caribbean culture and the importance of carnival - (all ages).
Father Goose, Saturday, 2:00pm to 2:30pm & 3:15pm to 3:45pm / Visitors of all ages will enjoy Jamaican-born Father Goose as he performs nursery rhymes with reggae beats and a range of instruments - (all ages).
Bobcat Kids Carnival Dance Party, Sunday, 11:30am - 12:00pm & 2:00pm - 3:00pm / Music lovers and dancers of all ages are invited to join Bobcat Kids for a journey to the Caribbean in festive costumes, using body movement and music - (all ages).
Caribbean Festival at the Brooklyn Children's Museum
WHEN: Saturday, July 22 & Sunday, July 23, 10:00am - 5:00pm
WHERE: 145 Brooklyn Ave, Brooklyn, NY 11213
For details and tickets, please visit www.brooklynkids.org