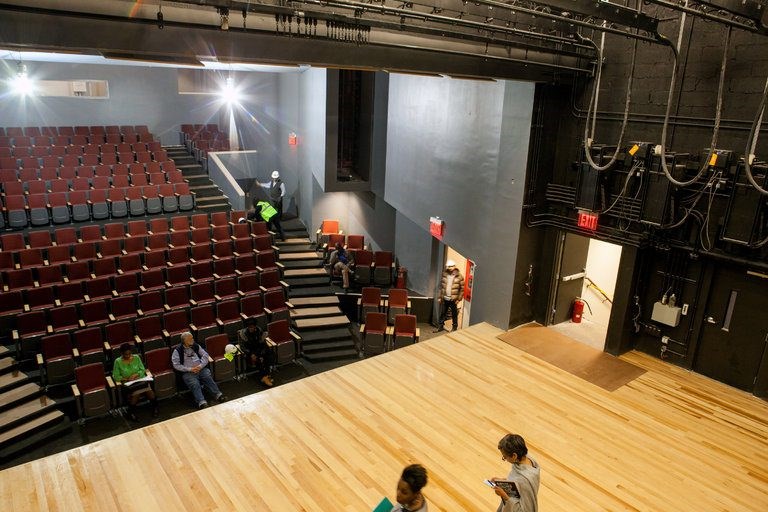 Nearing the completion of a much needed renovation, the Billie Holiday Theater, a Bedford-Stuyvesant neighborhood institution, is slated to open its doors again this May.
"It was long overdue; you're talking about the first renovation in over 40 years," explains Ms. Etwaroo, executive director for the Center of Arts and Culture at Bedford-Stuyvesant Restoration Corporation, to the New York Times. "With the renaissance that's been happening in Bedford-Stuyvesant, the Billie Holiday was poised for this project."
It has been two years since its last curtain call, which marked simultaneously the beginning of the $4.1 million remodeling project. Since then, the theater at the Restoration Plaza has undergone a comprehensive renovation; from replacing the seating and extending the stage, to a high-tech upgrade of the lighting, the acoustic and a new state of the art control room. Innovation also inspired the newly installed air-conditioning system which is powered off geothermal wells, expecting to lower the operating costs by 25 percent.
The complete overhaul of "the Billie", a community treasure since 1972, is further reflected in a new, varied program comprised of theater, dance, music, film and local performances. In the fall, it will also add a new residency of The Brooklyn based Ronald K. Brown Evidence dance company. Yet, deeply embedded in its community, the theater aims to offer affordable programs to its members who may not always have the means to experience pricier Broadway shows.
Colvin Grannum, the president of the nonprofit Restoration Project, stresses the importance of the Billie: "World class excellence has the ability to inspire people to reach beyond what they might normally see, to higher expectations." And he continues, "We want to bring folks together and build a stronger community."
For the grand re-opening on May 9, the Billie Holiday Theater will welcome acclaimed poet Sonia Sanchez, Tony-winning actor Roger Robinson; and renown pianist and composer Jason Moran.