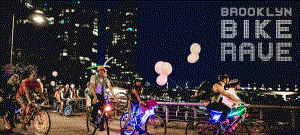 Bedazzle your bike, put on your craziest outfit, blast some party tunes and be ready for sensory overload at the Brooklyn Bike Rave, a glowtastic night ride along the Brooklyn Waterfront Greenway.
On Saturday, August 27, hundreds of cyclists will ride en masse along 7 miles of the Brooklyn Waterfront Greenway. Starting in Greenpoint, the group will ride through Williamsburg, travel inside the Brooklyn Navy Yard, through DUMBO and Brooklyn Bridge Park and loop back to finish under the iconic Archway under the Manhattan Bridge in DUMBO.
Brooklyn Bike Rave is New York's first ever event of its kind and allows you, the participant, to become an integrated part of the event by bringing your creativity while experiencing the energy of nocturnal Brooklyn at its best.
The Bike Rave is a cultural phenomenon that is spreading around the world, altering how people think about the cities in which they live and we invite you to join us for the city's first!
By participating in The Brooklyn Bike Rave, you are supporting Brooklyn Greenway Initiative, the non-profit organization committed to the establishment, development and long-term stewardship of the Brooklyn Waterfront Greenway. When complete, this 14-mile landscaped route for pedestrians and cyclists will connect neighborhood parks and open spaces from Greenpoint to Bay Ridge.
Gates open at 6:30 p.m. to 10:00 p.m. on Saturday, August 27.
Ride will depart at 7:30pm sharp.
Tickets are $37.50 - $50.00
For More Info. Visit: https://www.brooklyngreenway.org/event/brooklyn-bike-rave/