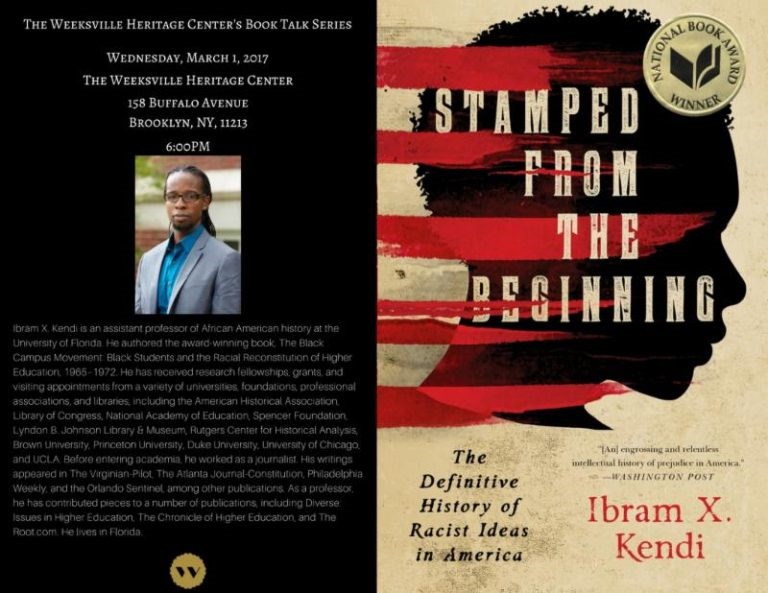 On Wednesday, March 1, Weeksville Heritage Center is inviting the public to a free reading by New York Times best-selling author and award-winning historian Ibram X. Kendi of his new book, Stamped From the Beginning: The Definitive History of Racist Ideas in America (Nation, 2016).
In this deeply researched, provocative narrative, Kendi offers a comprehensive history of anti-Black racist ideas-their origins in fifteenth-century Portugal, their arrival in England in the mid-sixteenth century, and their blossoming in the United States, where they became the founding principles of the nation's institutions and guarantors of power.
The Washington Post has called Kendi's new book, "An engrossing and relentless intellectual history of prejudice in America... The greatest service Kendi [provides] is the ruthless prosecution of American ideas about race for their tensions, contradictions and unintended consequences."
In reading from Stamped From the Beginning, Kendi will discuss how racist ideas are easily produced and consumed, but also how they can be easily discredited.
About Ibram X. Kendi: A frequent public speaker, Kendi specializes in the history of racism and antiracism. His most recent publication, Stamped from the Beginning, won the 2016 National Book Award for Nonfiction. Kendi has written fourteen journal articles and book chapters, as well as numerous op-eds in periodicals like Black Perspectives, Salon, The New York Times, The Chronicle of Higher Education, New York Daily News, The Huffington Post, and The Root. Kendi earned his undergraduate degrees from Florida A&M University, and his graduate degrees from Temple University. He lives in Gainesville, Florida.
WHAT: Stamped from the Beginning, a reading by author Ibram X. Kendi
WHEN: Wednesday, March 1, 6:00pm
WHERE: Weeksville Heritage Center, 158 Buffalo Avenue, Bklyn
HOW MUCH: Free