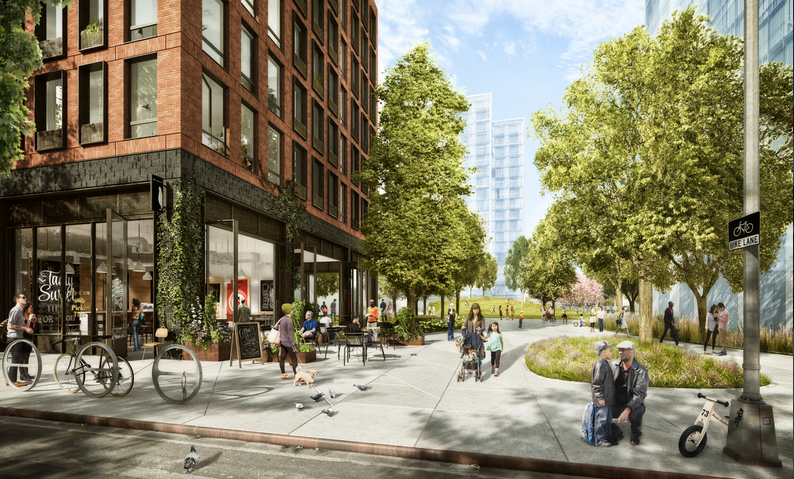 The borough's largest planned development dubbed Atlantic Yards since 2003, and which includes the Barclays Center, was re-branded Pacific Park, as first reported by Curbed.
The 22-acre project going southeast from the Atlantic and Flatbush avenues intersection sits on the southern edge of Downtown Brooklyn between the neighborhoods of Fort Greene/Clinton Hill and Prospect Heights.
The developers, Greenland Forest City Partners, chose the new name to highlight the 8-acre Pacific Park, which is set to be placed in the center of the project's planned properties, according to the developer's press release.
The first new building will break ground in December at 535 Carlton Avenue. It will be 18-stories and consist of 298 affordable rental units ranging from studios to three-bedrooms. The affordable units will be rented to a mix of families and individuals in the moderate-, low- and very low-income range.
The second planned building in Pacific Park will be at 550 Vanderbilt Avenue and include 275 all-condominium, market-rate units ranging from studios to four-bedrooms, the developers said.
Besides the completed Barclays Center, the project also includes a mixed market rate and affordable housing building now under construction at the intersection of Dean Street and Flatbush Avenue.
Upon final build out, the project is slated to have 247,000 square feet of retail space, 336,000 square feet of commercial space and 6,430 units of housing, of which 2,250 units are earmarked as affordable.