Atlantic Terminal Mall in downtown Brooklyn just got its own coronavirus tattoo, in the form of another mural.
Commissioned by the terminal's property owner Madison International Realty, the mural, entitled "HOPE," was created by Brooklyn artist Jason Naylor. It is a boldly colored rainbow created to inspire optimism and promise of brighter days as residents power through the COVID-19 pandemic and quarantine.
This isn't the realty company's first public art commission at the terminal. Previously, Madison commissioned Brooklyn artist Patrick Dougher to create "Spread Love" and also partnered with local artists to create the "Take It Easy" mural for MOCADA Museum.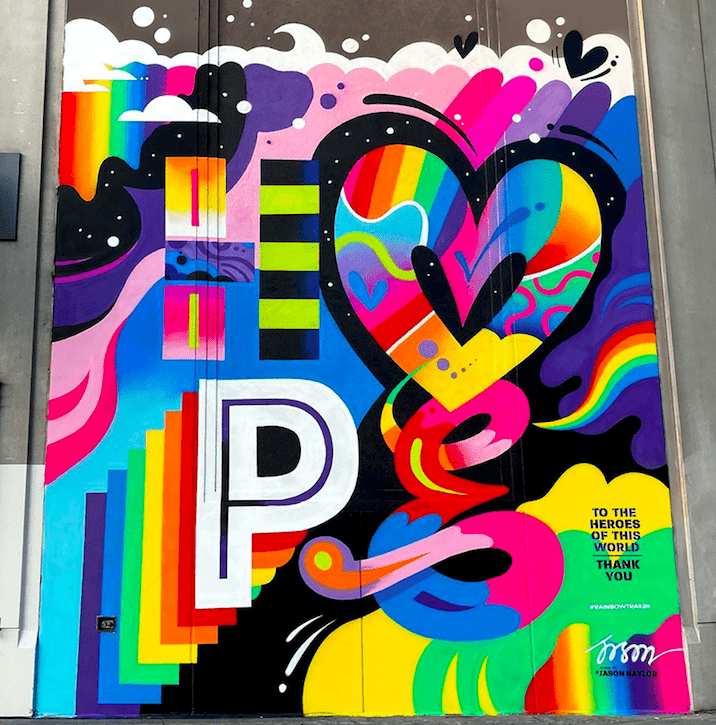 "We have welcomed art at our properties as way to bring authenticity to the neighborhood, while also contributing to the arts and urban landscape of the surrounding area.," said Evan Walke, Madison International Realty portfolio manager. "With Brooklyn especially, art is the heartbeat of the local community."
Walke said the mural is dedicated to the essential workforce, the true heroes of Brooklyn: "These heroes are the ones that give us hope that hold our community together. Through these trying times, it is important for our community to celebrate this sentiment of resilience and courage."
Jason Naylor was chosen because of the impressive artwork he's done already in the borough around the pandemic-- a mural project aimed at spreading messages of hope throughout the city. Madison wanted to expand on what he had started, said Walke.
"Jason was able to bring our message to light overnight and felt just as passionate about this special piece as we did."
Madison said it plans to keep the mural up at the mall at least through the end of 2020.