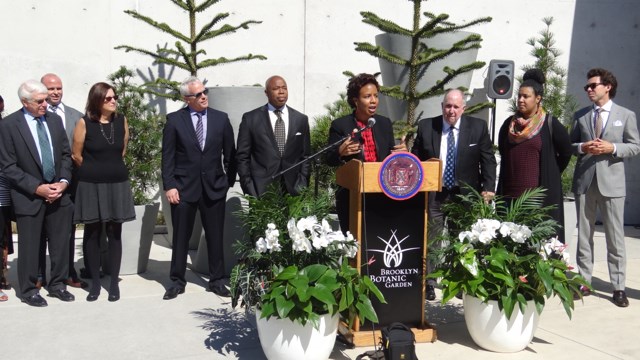 City Councilmember Laurie Cumbo was joined by the presidents and directors of more than a dozen key arts and cultural institutions in Brooklyn, including BAM Chairman Alan Fishman, Brooklyn Navy Yard President and CEO David Ehrenberg and MoCADA's Executive Director James E. Bartlett, at the Brooklyn Botanic Gardens on Monday to announce $22 million in capital funding her office secured for arts programs in her district.
The funding, secured by Cumbo through a partnership with the mayor's office and Brooklyn Borough President Eric Adams, is the largest amount ever allocated at one time for these institutions, all of which, Laurie pointed out, are "essential to the 35th District and the city as a whole."
"We need to be able to make sure that arts and culture is a fundamental part of the conversation, because the arts are the glue to Brooklyn New York: It is what brings us together; it is what makes us whole; it is what teaches us about one another," said Cumbo. "We have something very special here and we have something that no one else has in the entire world."
The top eight institutions with the largest awards include:
The Brooklyn Botanic Gardens, $5.3 million
The Brooklyn Academy of Music, $5 million
The Brooklyn Museum of Art, $4.4 million
MoCADA, $2.8 million
651 Arts, $2.1 million
Brooklyn Navy Yard, $1.5 million
Mark Morris Dance Group, $500,000
Prospect Park Alliance, $400,000
As the founder of the Museum of Cultural and Diasporan Arts (MoCADA), Cumbo has been a longtime and outspoken champion of developing Central Brooklyn into a premier arts and cultural hub. She laughed warmly about how her very first "tax-paying job," was at the Brooklyn Museum, where the museum's current Director, Arnold Lehman, was her boss.
Only 15 years ago, Lehman was signing Cumbo's checks. Today, Cumbo was happy to be able to help cut Lehman a much bigger one, for $4 million.
"The Brooklyn Museum is grateful for the generous capital support provided by our Councilmember Laurie Cumbo," said Lehman. "The Member's allocation will allow us to update our education division and create an extraordinary space for children, from toddlers to teens who visit and take classes at the museum."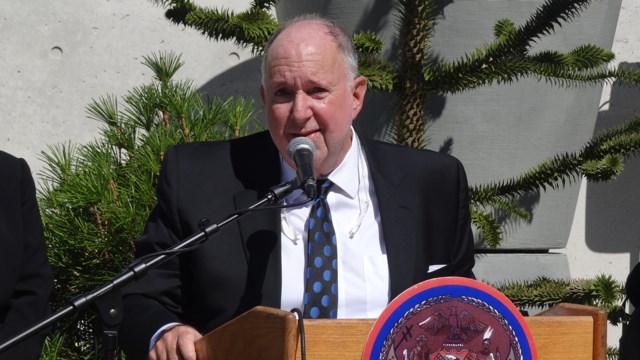 Also, earlier this year, Cumbo introduced Res. 188, calling upon the State Education Department to require certified arts tearchers in all New York City pubic schools. The legislation was referred to the Committee on Education.
"...Whether we're talking about gun violence, public housing, education or technology, always know that I am inserting that arts and cultural voice into the conversation," said Cumbo. "Because it is necessary, it is important. And art is what is going to change the world."