Getting a vaccine at the Barclays Center is a slam dunk.
Beginning November 3, individuals who visit the Barclays Center vaccination site and receive their first COVID-19 vaccine dose can receive two complimentary Barclays Center event tickets.
This initiative was announced by New York Governor Kathy Hochul the same day the CDC green-lighted children ages 5-11 for Pfizer's low-dose COVID-19 vaccine. Children's doses can be administered as soon as Thursday, November 4, following the FDA's approval last week.
The vaccination site, which is just outside the stadium at the Modell's store, will give out 100 vouchers per day, BSE Global CEO John Abbamondi said. The site is currently administering the Pfizer-BioNTech inoculation.
"Getting a needle in your arm is scary when you're a kid, but hopefully getting to see a free Brooklyn Nets game with mom or dad takes the sting out of it," Abbamondi said.
The tickets are not just for basketball fans â€" the vouchers are redeemable for the Strokes performance at the New Year's Eve show, too.
This program is a scaled-up version of a similar initiative that took place this August, which gave out tickets at a one-day-only pop-up vaccination site. Due to its success, Hochul and BSE Global, the parent company of the Brooklyn Nets and Barclays Center, are renewing the program to help the borough recover from the impact of COVID-19.
Lieutenant Governor Brian Benjamin as well as Nets player Bruce Brown, Liberty players Betnijah Laney and DiDi Richards endorsed the announcement at the press conference on Tuesday.
Students from Ascend Public Charter Schools were there too and got a chance to shoot hoops with the pros on the Barclays Center court.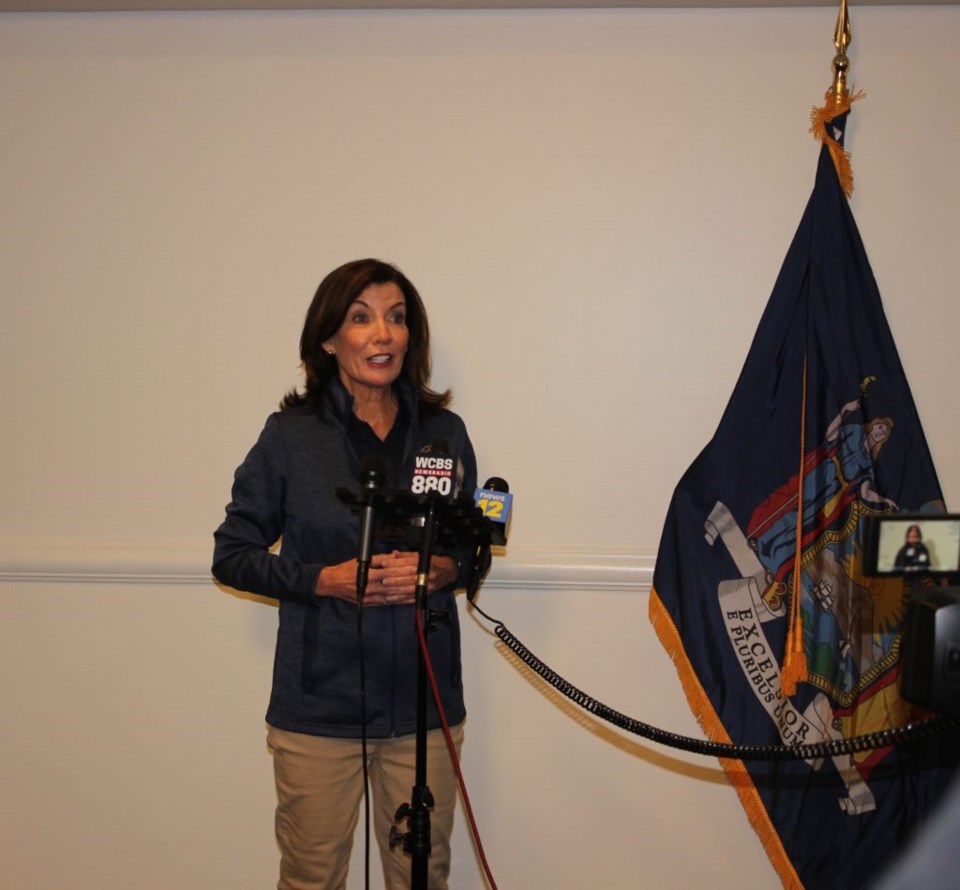 "We're at a critical point in our battle against the pandemic," Hochul said.
"In addition to vaccinating more kids soon, we must also convince the most reluctant adults that getting vaccinated is best for their own health and the health of their entire community. Working together is the best way to beat back this virus and get back to living our lives."
This announcement comes the same day Hochul signed legislation that authorizes licensed pharmacists to administer CDC-recommended vaccines for patients 18 and older.
Now, immunizations for Hepatitis A and B, HPV, Measles, Mumps, Rubella, Varicella and COVID-19 are available at pharmacies.
In Brooklyn, 61% of residents are fully vaccinated, and 66% have received at least one dose. The city is also offering $100 gift cards and other vouchers for cultural attractions at participating locations as an incentive.
Hochul said she just bought 380,000 COVID-19 vaccine doses for New York's children.
"[The low-dose children's vaccines] will be available at clinics, vaccination sites, and pharmacies," Hochul said. "I want every child vaccinated so that they are safe and don't get their parents or grandparents sick. That's how we begin the end of this."
Appointments can be booked in advance by going through NYC COVID-19 Vaccine Finder and choosing "Barclays Center: Modell's" as the vaccination site. Walk-in appointments will also be available on a first-come, first-served basis.
Nets player Kyrie Irving has recently made headlines for refusing to get vaccinated and he hasn't been allowed on the court since October 12. Until Irving either gets vaccinated or the NY vaccine mandate gets lifted, he will not play.
"We're not forcing the public to get vaccines, we're providing an incentive," Abbamondi, who is a Park Slope resident, said.
"The city of New York set a policy that said in order to go to a restaurant, a concert or sporting event, you've got to be vaccinated. That's the policy, we embrace that, and we want as many of our fans vaccinated as possible."
Additional details on the program can be found online at barclayscenter.com/covid19vax.