With her first solo exhibition, "God is Trans," artist Genesis Tramaine made a controversial-- if not, thought-provoking-- entry onto this side of the East River.
Her paintings, which debuted in June 2018 at Richard Beavers Gallery, dared to interrupt the notion that God is male and appealed to the viewer to see God outside of traditional gender binaries, as transgender— a spirit that occupies both genders and everything in between.
Tramaine returns to Richard Beavers Gallery almost a year and half later to present her latest body of work: Hebrew Boys: Portals of Faith, her second solo exhibition, opening November 9 through December 14, 2019. Hebrew Boys is a series of paintings and new participatory art installation works that draw viewers in for an introspective dialogue with work that explores the Biblical book of Daniel.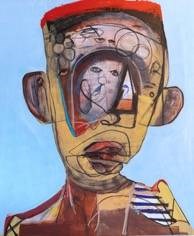 In the text, Daniel, Hananiah, Mishal and Azaria (later and better known as Shadrach, Meshach, Abednego) are laid captive in Babylon. Rejecting authoritarian orders of idolatry by reaffirming their religious beliefs and culture, the men are thrown into a fiery furnace and emerge without harm. The work invites viewers to travel in time through the unyielding faith of these Hebrew brothers
In her latest body of work, Tramaine depicts the individual resilience and faith of each of these young men through visages, or what she refers to as windows into our collective history that often direct the trajectory of our future.
Tramaine's work focuses on the shape and definition of the American Black Face, layer upon layer of real moments and imagined metaphors. Exaggerated features capture the spirited emotions of the untapped, underrepresented soul of Black people through a mixture of collage, acrylic and oil-based paintings.
Using traditional West African storytelling techniques, Tramaine employs coded forms and symbols to transmit narratives of ancestral language, culture and wisdom:
"I pray to God in the name of Yeshua to be a vessel,"" Tramaine proclaims. "Though unworthy, I am willing to surrender to the Holy Spirit. It's only then that I'm able to be used to deliver a message."
Tramaine's visual narrations are just as much about the process of creation as they are about the stories themselves.
She refers to her work as manifestations of her prayers expressed: "My entire painting process is a testament to my faith in God. Each painting holds its own testimony," said Tramaine who grew up in Lafayette Gardens Housing Development in Brooklyn.
"The story of Daniel and the 'Hebrew Boys' as told biblically, has helped to restore my faith in days of doubt or hardship. It also encouraged me to completely surrender to God's will."
The opening reception for Hebrew Boys is November 9, 6:00pm-9:00pm at Richard Beavers Gallery, located at 408 Marcus Garvey Blvd.
| | | |
| --- | --- | --- |
| Press Preview | Tuesday, November 5 | 12:00 — 4:00 PM |
| Exhibition On View | Saturday, November 9 | December 14, 2019 |
| Opening Night | Saturday, November 9 | 6:00 PM — 9:00 PM |
| Artist Talk | Sunday, November 17, 2019 | 3:00 PM — 5:00 PM |
| KIDZ Paint It Up with Genesis | Saturday, December 14, 2019 | 1:00 PM — 3:00 PM |