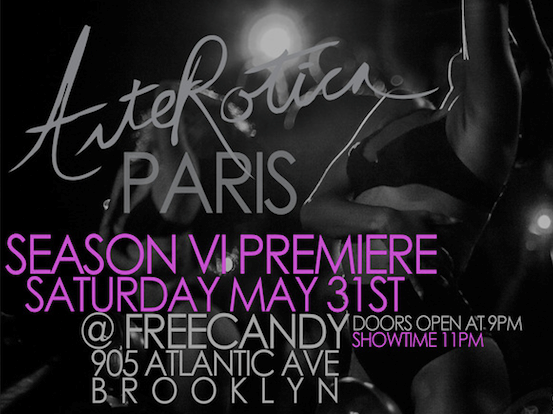 ArteRotica's sixth season is kicking off this week at its brand-new location in Clinton Hill, Brooklyn.
Every month from May to October, ArteRotica brings its audiences tantalizing live erotic performances, fantastic visionary DJs, shocking events and titillating exhibitions featuring erotic art from emerging and established artists.
On Saturday, May 31, at 9:00pm, ArteRotica will launch Paris the Season VI Premiere at Free Candy, located at 905 Atlantic Avenue.
ArteRotica first debuted in 2009 as the brainchild of Sybarite Productions and curator/photographer Alaric Campbell. In 2012, ArteRotica began collaborating with Danny Simmons of RUSH Philanthropic/Rush Art Galleries.
And over the last five years the, as more and more visual and performing artists sign on to the showcase, the "live exhibition" has exploded in popularity.
Each ArteRotica Season VI monthly event will inspired by six sexy international locations, starting with Paris. Artwork, music, an open bar, food and ambiance, will transport audience members to various iconic destinations around the world.
Playboy.com calls it "The sexiest art exhibit you've been missing." The New Pop calls it "The best kept secret in town." For more information, tickets and season passes, visit their website.