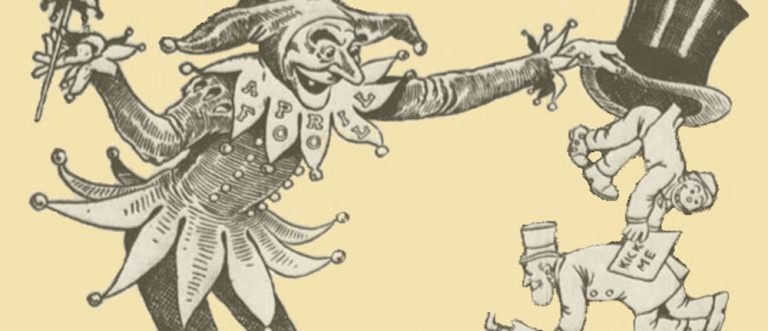 Although the saying goes "there's a sucker born every minute," it's increasingly difficult to find suckers anymore. Lots of people are hip to the various email scams, especially if it comes from a hotmail account. Meanwhile, youth on the MTA encounter tough customers when selling M&M and Starburst candies to buy "uniforms" for their "basketball team," which is apparently why many have turned to "showtime" to get subway riders to come up off some coin.
But fools? Well, fools are everywhere and are annually duped on April Fool's Day, which is this weekend.
But you're nobody's fool... Or at least your momma ain't raise none, so don't get caught in the spider web of pranks played by celebrities and brands, this time of year. Last year featured some funny April Fool's hoaxes, like when Trader Joe's said that they were closing all their stores and people freaked out! Or when Doulingo said they invented a pillow that could teach you a new language overnight, while you slept on it.
Don't fall for the okie doke people, and look out for the White House reporting that Donald Trump has resigned, which hopefully wouldn't be a prank.
So check out these events this weekend, where you will def have a good time... and that's no April Fools.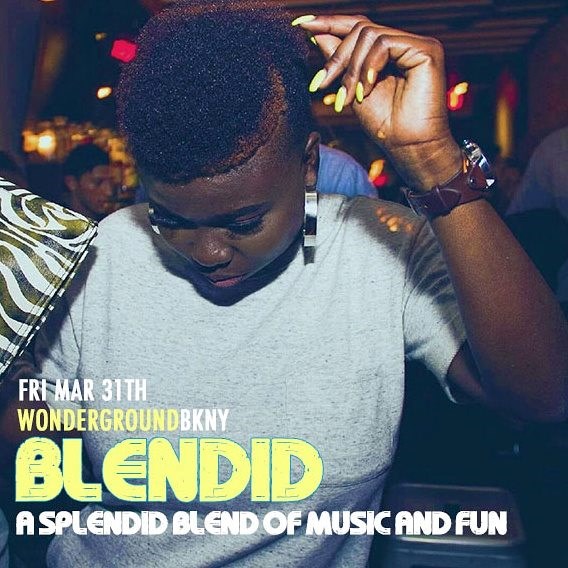 Blendid, Bed Vyne Cocktail, 305 Halsey Street, Friday, 9pm, Free (BedStuy)
This is a fun Brooklyn dance party, in the great tradition of Brooklyn dance parties. It's every last Friday of the month and an excellent way to start off your weekend. DJ's Silence PB and Internal Affairs set the tone in the DJ booth and the party people set the tone on the dance floor. It's at Bed Vyne, which turns out some serious cockails, with prices that have a conscious.
Comrade Cav is the party motivator on the mic and my man Terry is the quite party starter that pulls it all together. Get there early to enjoy the backyard. Well, if it ain't suddenly freezing again on Friday! Check the FB event page by clicking here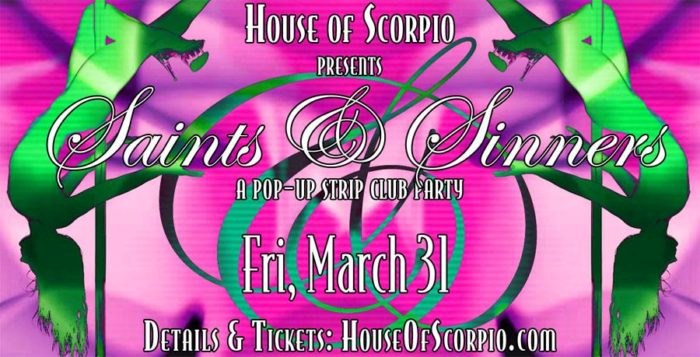 Saints & Sinnners: A pop-up Strip Club Party, House Of Gemini, Friday, 9pm-3am, $30-$100 (Gowanus)
House Of Scorpio does some interesting events in their loft space and this is another one of them. It sounds like a super fun and sexy night. It's actual burlesque stars taking it off the stage and giving lap dances, which is super rare. It's conduct rules to follow and other features like a couples friendly champagne room, but to get a full gist of the vent, you should click here for the Facebook event page. Here's a some info from that page:
For one night only, our sexy clubhouse becomes a full-on strip club, with two stages, a pole, and an array of lap dance-ready seating....and yes, we'll even have a couples-friendly Champagne Room. There will be eight(!) dancers to entertain you: each a hand-picked burlesque, pole or circus star stepping outside the boundaries of their genre to spend the whole night dancing for you on stage and in your lap. Featuring:
- Peekaboo Pointe, fastest tassel-twirler from East to West
- Cheeky Lane, the wild child of the Id and the Ego
- Gal Friday, the five-alarm fire of burlesque
- Munroe Lilly, the Black Diamond, rare and beautiful
- Lillet St Sunday, the smartypants without her pants
- Lydia Vengeance, the manic pixie nightmare witch
- Audrey Love, the tantalizing tease
- Neon Bunny, bodacious bacchanal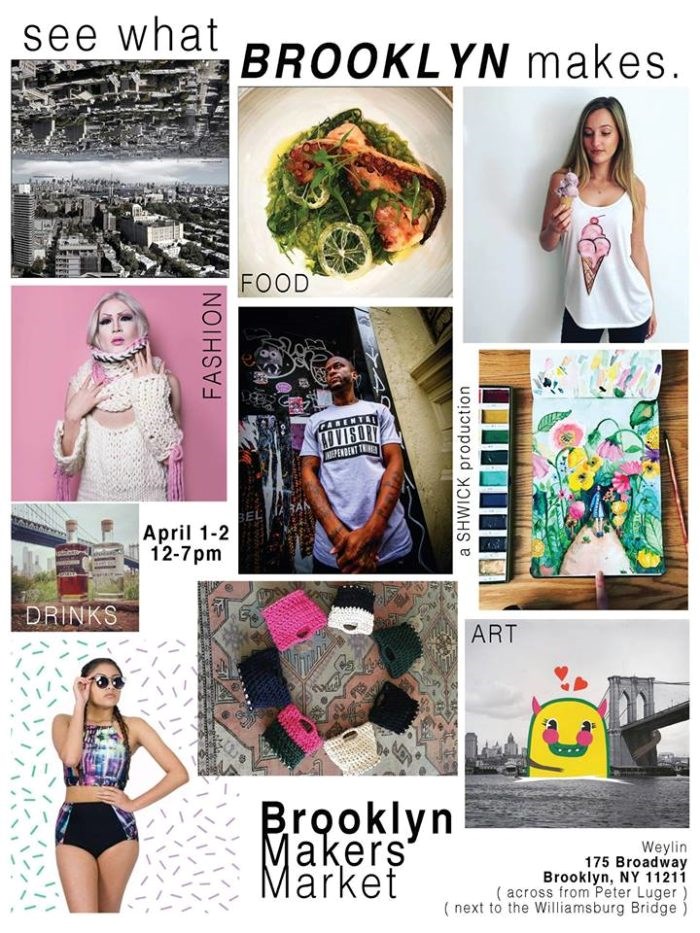 Brooklyn Makers Market, 175 Broadway (Williamsburg Savings Bank Building), Saturday & Sunday, 12pm-7pm, Free (Williamsburg)
Brooklyn Keeps On Making It...and it's on display at the Brooklyn Makers Market, which will run this weekend and feature the best DIY and independent makers, from apparel to accessories to art and food and all things in-between. You can grab a few cocktails and stalk the isles of the beautiful Williamsburg Savings Bank Building, as you look for dime finds for yourself or your friends...and don't forget that Easter holiday is coming up, so maybe get out in front of it and get your moms something nice, that somebody made by hand, with love.
I'll be DJing on both days, so you can stop, bop and drop, while you shop. Click here for more information.

Str8OuttaBrooklyn: The Culture Brunch, 3 Black Cats Cafe, 3 Belmont Avenue, Sunday, 12pm-4pm$19.99 Pre-Fixe (Brownsville)
When's the last time you've been to Brownsville? Exactly! This fun brunch is an excellent reason to revisit the historic neighborhood, during a Sunday afternoon. The weather forecast says a tiny chance of rain, and you can bet your Al Roker that it's all gonna be a stone gas baby. They have a delicious deal on the brunch, but it's also a host of other things jumping off. DJ's, live performances headlined by Nova, a live jam session, meeting and greeting professionals and creatives, while also honoring some Brooklyn community members doing good things in the borough of Biggie.
It's also a good story behind the cafe itself, which is owned by three Latino sisters, who are Brownsville natives, and who opened the cafe in partnership with the Dream Big Foundation. Click here for more information, to buy tickets and see a line up of the talent. When you go, give a pound to Hard Hitting Harry, the hardest working DJ in BK!
So there ya go, yo! Enjoy your weekend to the fullest!