Inspired by the hit movies "Sister Act" and "Sister Act 2", AbunDance Academy of the Arts presents the theatrical dance performance "Sister Act, AbunDantly" on Sunday, June 25, at the Kings Theatre.
Through dance and live music "Sister Act, Abundantly" tells the inspiring story of a successful Broadway star who returns to her hometown of Brooklyn to share her love for art with the neighborhood.
The performance features a total of 110 performers, a truly intergenerational troupe of students ranging from 3 to 83 years old. Also part of the show are Broadway alumni like Karisma Jay, the founder of AbunDance Academy of the Arts, who will play the lead character Deloris Van Cartier, a role for which Whoopi Goldberg became most prominently known for.
AbunDance Academy of the Arts is a non-profit organization dedicated to provide stellar arts programming to students who seek enrichment within the "AbunDance" that arts provide. The organization's nurturing environment emphasizes a well-rounded approach to the arts - and to life - and offers classes in dance, martial arts, theater, vocal and music performance as well as adult programs for fitness, health and wellness. The classes are made available at accessible rates so that people of all income levels can experience the arts first-hand. The faculty roster includes highly skilled teaching artists who are passionate about their artistry and the budding artistry of each and every student.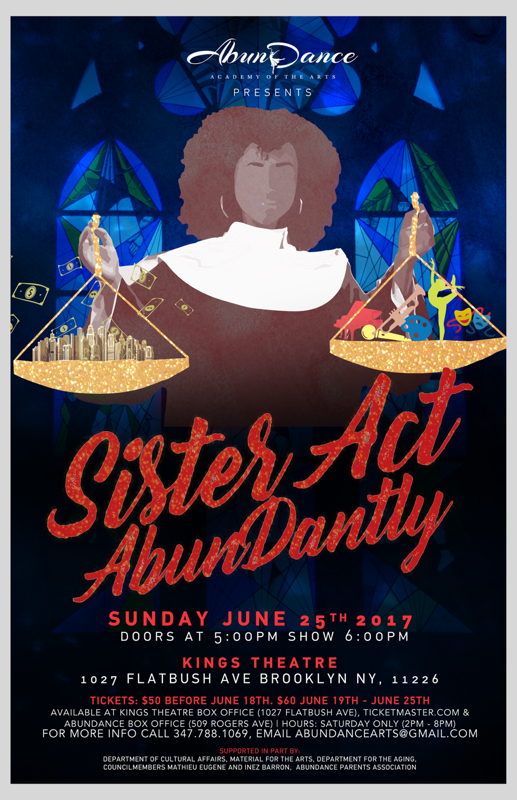 This year, at a time when the school is trying to find a new location after having to leave their established home in Flatbush due to rising rent and gentrification, the performance is especially meaningful and important to the academy, emphasizing that "In AbunDance, there's Dance!"
For more details and tickets, please click here.
AbunDance Academy Presents: "Sister Act, AbunDantly"
When: Sunday, June 25, 2017, 6:00pm
Where:Kings Theatre, 1027 Flatbush Ave, Brooklyn, NY 11226