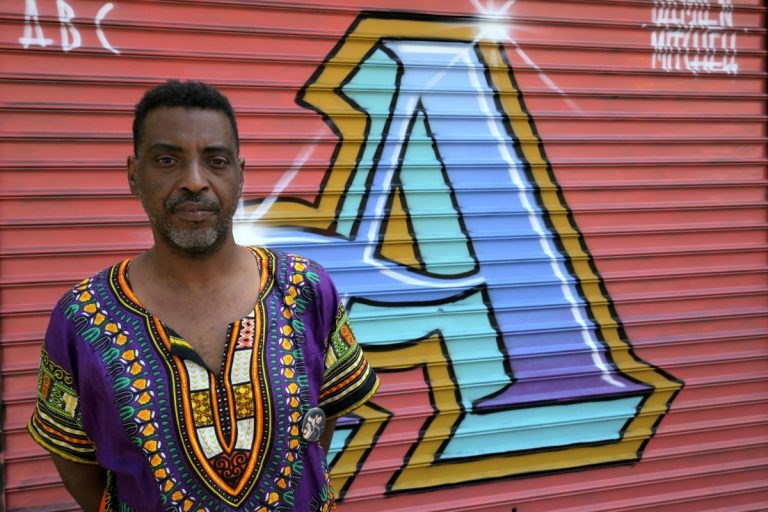 "PLG ABC", the ABC murals of Prospect Lefferts Gardens, is a burgeoning public art project lead by Pierre Francillon and graffiti artist Damien Mitchell. According to PBS News, Francillon, who grew up in the neighborhood, first felt compelled to draw letters nearly four decades ago when he witnessed his classmates struggling to read in elementary school.
"When I would tutor my classmates at Public School 92, it was always through art," said Francillon. He would illustrate a word to help his classmates retain its meaning. "I was like, why don't they just paint a flashcard on the wall?"
PLG ABC plans to work with various artists from the Prospect Lefferts Gardens area to paint 26 murals, representing each a letter of the alphabet, with the goal to encourage the neighborhood kids to read.
Prospect Lefferts Garden has long been home to a largely middle-class, racially diverse community but has also experienced a continuous inflow of new residents. Francillon initiated the project as a way to link members of the community, both old and new. The neighborhood has been very supportive of the project as comments in a Facebook group for Prospect Lefferts Gardens residents attest: "My son will love this! We should do a scavenger hunt for the kids when more letters are up."
But before taking over the local walls, Francillon always asks permission from the business owners to paint on their public-facing walls and business gates.
Five letters are up so far, and Francillon hopes to complete the project in the next several months.