Circus Amok, a Williamsburg-based theater group, is making its rounds across Brooklyn's public parks, and is soon to arrive in Central Brooklyn!
A mixture of sassy and sensational, with a touch of razzle dazzle, the show's aim is to challenge gender norms while inviting audiences into "a celebratory queer spectacle," according to the group's website.
Founded in 1989 and billed as a one-ring, no animal, queerly situated, political circus extravaganza, the traveling outdoor show combines the staples of any circus, including jugglers and clowns with experimental dance, life-sized puppets and political commentary.
Past shows have dealt with hot-button issues in a fun and comedic way, including the HIV/AIDS crisis, climate change and the Patriot Act.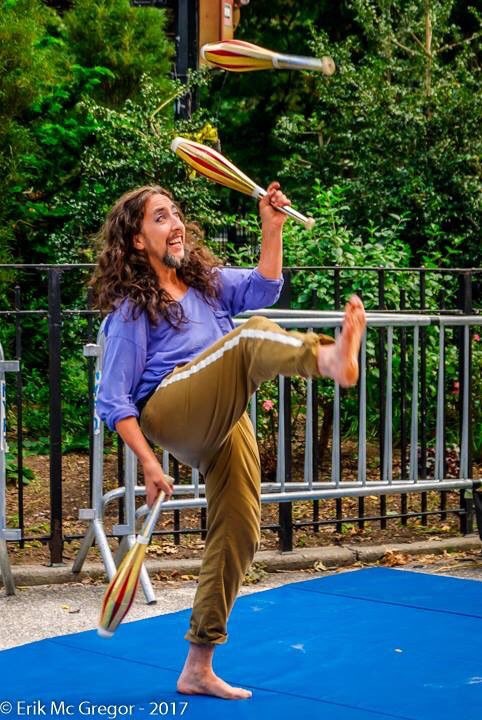 "I think with comedy, you get to re-center what's normal. You can pull back from frames that are considered 'natural' and get new perspective," said Jenny Romaine, who has been a Circus Amok performer and the group's musical director/band leader for more than 20 years.
Romaine first met Circus Amok Founder Jennifer Miller through her work with the longstanding puppet troupe Bread and Puppet Theater, known for its massive puppets, surreal aesthetic and political engagement.
Romaine fell in love with Bread and Puppet's brand of art-connected-to-activism and wanted to do more: "It integrated movement, sculpture, music and dance," said Romaine. "And I was like, yeah. That's where I belong."
The title of this year's circus is "Enough is Enough," a reference to both the Streisand-Summer Disco duet, and a commentary on the nation's current political reality.
"It's super campy," Romaine added. "Big hair, big ladies, big disco, big gay... It's also about acknowledging that you feel pissed, but you're surviving. And committing to surviving together."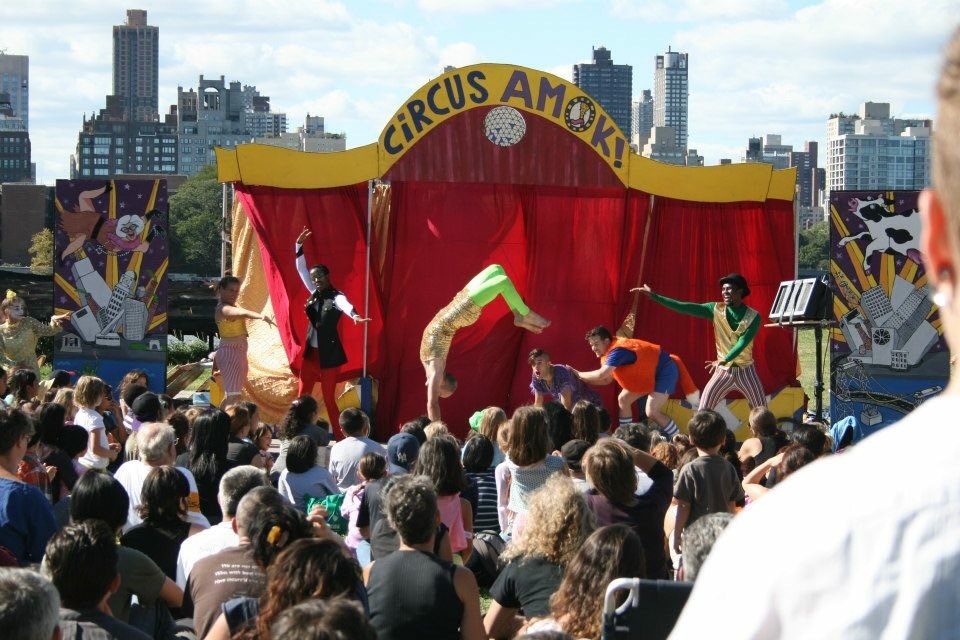 The circus is in town until September 16. Catch one of the free performances below at a park near you!
Friday, September 7, 6:00pm
Fort Greene Park, Myrtle avenue & St. Edwards street
Saturday, September 8, 3:00pm
Sunset Park, 6th avenue & 44th street
Sunday, September 9 — 2:00pm & 4:00pm
Prospect Park, Enter at 9th street. At the circle of trees in front of the dog beach.
Friday, September 14 — 5:00pm
Thompkins Square Park, East Village, Avenue A & East 7th street
Saturday, September 15 — 3:00pm
Bushwick Inlet Pop-up Park, 50 Kent Avenue and North 12th street
Sunday, September 16 — 2:00pm & 4:00 pm
Coney Island Boardwalk, Steeplechase Plaza at West 16th Street