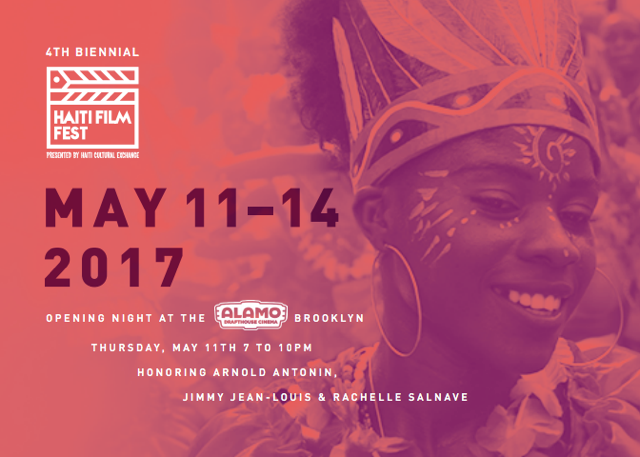 Tickets are now available for the 4th biennial Haiti Film Fest, sponsored the Haiti Cultural Exchange (HCX), showcasing the authentic soul of Haiti and its Diaspora through the lens of film.
Established in 2011, HCX's Haiti Film Fest highlights emerging talent in Haitian communities, and features provocative and innovative storytelling through over 25 narrative films, documentaries, feature-length projects and short films that depict the diversity, depth and vibrant spirit of contemporary Haitian cinema.
The upcoming festival will take place May 11 - May 14, during Haitian Heritage Month in venues throughout Brooklyn, along with a schedule of panel discussions and networking receptions.
The festival kicks off on May 11, with an opening night fundraiser and official launch party taking place at Alamo Drafthouse Cinema in Downtown Brooklyn. The evening will also be dedicated to honoring individuals who have made significant contributions to Haitian film and culture, including Award-winning Film Director Arnold Antonin; Celebrated Film and Television Actor Jimmy Jean-Louis; and Filmmaker and Founder of Ayiti Images Rachelle Salnave.
| | | |
| --- | --- | --- |
| Arnold Antonin | Jimmy Jean-Louis | Rachelle Salnave |
The opening night festivities will also feature "The Last Haiti: The Moving Portraits," by Steven Baboun and a sneak peak of the short film "Tezin," by Shirley Bruno, in addition to film montages highlighting the accomplishments of our three honorees.
For ticket and event information, go here.
Date:
Thursday, May 11
- Opening Night Fundraiser
Location: Alamo Drafthouse Cinema | 445 Albee Square W, Brooklyn, NY 11220
Friday, May 12
| Five Myles Gallery
Select Shorts:
Carpediem by Christie Karolane Augustin
The Last Haiti: The Moving Portraits by Steven Baboun
Toussaint Louverture: Miroir d'une Societé by Pierre Lucson Bellegarde
Haiti Is A Nation of Artists by Jacquil Constant
Elegy for Stivenson Magloire by Edouard Eloi & Shalom Gorewitz
Valiz La by Rosario Lacroix
Taking Chance by Jerry Lamothe
Haitian Son by Marc-Eddy Loriston
Baldwin's Prophecy by Richard Louissaint
Les Pleureurs by Michelle Marrion
Minutes to Say Hi by Easmanie Michel
See(ah) by André M. Zachary
Date:
Friday, May 12
- An Evening of Shorts
Location: Five Myles Gallery | 558 St Johns Pl, Brooklyn, NY 11238
Documentary Filmmaking in Haiti
with Special Tribute to Arnold Antonin
Saturday, May 13
| St. Francis College - Maroney Theatre
Screening Schedule:
12:30pm
-
La Déchirure
by
Feguens
on
Hermogène
1:00pm
-
El
Violinista
by Richard S
énéchal
2:00pm
-
De
Kiskeya
a
Haiti
: Mais Où Sont Passés Nos Arbres
,
by Mario L.
Delatour
3:0
0pm -
La Dérive Douce D'un Enfant de Petit
Goave
,
by Pedro Ruiz
5:00pm
-
Keynote discussion featuring Arnold Antonin and other documentarians
6:00pm
-
Spotlight on Arnold Antonin's Documentary Films
<
6:00pm
-
Faiseur de Fanaux
<
6:15pm
-
Courage de Femme; Benita et Merina
<
6:30pm
-
Herby, le Jazz et la Musique Haïtienne
<
8:00pm
-
René Depestre : On Ne Rate Pas Une Vie Eternelle
Date:
Saturday, May 13
- Documentary Filmmaking In Haiti
Location: St. Francis College - Maroney Theatre- 7th fl. | 180 Remsen st. Brooklyn, NY 11201
Haiti Film Fest Closing Day
Sunday , May 14
| St. Francis College Founders Hall
Screening Schedule:
12:30pm
-
Serenade for Haiti
, by Owsley Brown
1:45 - A sneak peak "Tezin," by Shirley Bruno
2:15pm - Ayiti Mon Amour by Guetty Felin
3:45pm
- *Panel discussion with filmmakers Shirley Bruno, Guetty Felin, & Christy McGill
4:30pm
-
My Father's Land
by Miquel Galofre & Tyler Johnson
5:30pm
-
Si Bondye Vle, Yuli
by Jean Jean
A
6:45pm
- *Panel discussion with filmmakers, scholars, and industry professionals
a
7:30pm
-
The Empty Box
by Claudia Santa-Luce
A
Date:
Sunday , May 14
- Haiti Film Fest Closing Day
Location: St. Francis College - Founders Hall | 180 Remsen st. Brooklyn, NY 11201
*Select screenings will be followed by discussions with filmmakers, industry professionals, and scholars. $10 suggested donation for film screenings. Seating is limited. First come, first served.*