The 2017 festival will be headlined by Fred Wesley, Tito Puente Jr., Denroy Morgan and Kulu Mele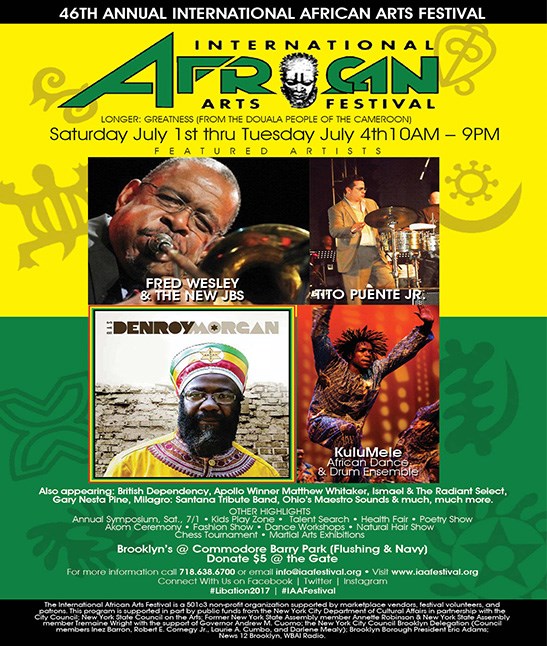 The International African Arts Festival, Brooklyn's beloved celebration of African culture and family, returns from Saturday, July 1 - Tuesday, July 4, to Fort Greene's Commodore Barry Park.
Celebrating its 46th anniversary, the 2017 festival features an eclectic list of headliners including legendary funk pioneer Fred Wesley and the New JBs, Tito Puente Jr., reggae veteran Denroy Morgan and the Kulu Mele African Dance and Drum Ensemble.
Philadelphia-based dance ensemble Kulu Mele will kick off the Festival on Saturday. A highly regarded cultural institution for nearly 50 years, the ensemble features authentic, traditional dance and drumming from West Africa, Cuba and Brazil, as well as contemporary American hiphop.
Tito Puente Jr., while determined to nurture the musical legacy left by his father, will show the audience on Sunday why he, in his own right, has become an audience favorite who performed more than 300 shows over the past 5 years worldwide.
On Monday, Jamaican reggae veteran Denroy Morgan, who has gained notoriety in the '80s with his hit song "I'll Do Anything for You", will be taking the stage at the festival.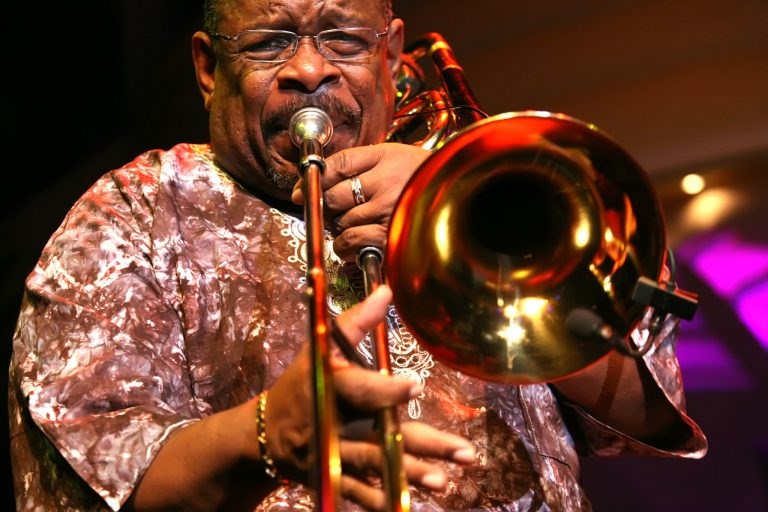 The world's funkiest trombone player Fred Wesley, former music director for James Brown and the JBs and arranger for P-Funk, will be the final headliner on Tuesday.
The International African Arts Festival (IAAF) began in 1971 as a fundraiser for the Uhuru Sasa School, a community-based initiative that educated youth and adults about African culture. Started as a small fundraiser with about 20 arts and crafts vendors, local entertainers and food prepared by parents of the school's students, the inaugural event attracted almost 2,000 people. Today, the event is known as the International African Arts Festival and has an estimated annual audience of 75,000.
The celebrations will be accompanied with its annual symposioum, a daily children's program, an Akom ceremony, an arts and craft zone, a fashion and natural hair show, a health fair, a poetry and spoken word show, dance workshops and many other attractions.
The festival welcomes guests of all ages, backgrounds, and musical preferences. Visit the official website www.IAAFestival.org for details.
International African Arts Festival
When: Saturday, July 1- Tuesday, July 4, 10:00 am - 9:00 pm - rain or shine
Where: Commodore Barry Park, Flushing Ave & N. Elliot Pl, Brooklyn, NY 11201
Admission: $5 for adults and $2 for children (suggested minimum donation)