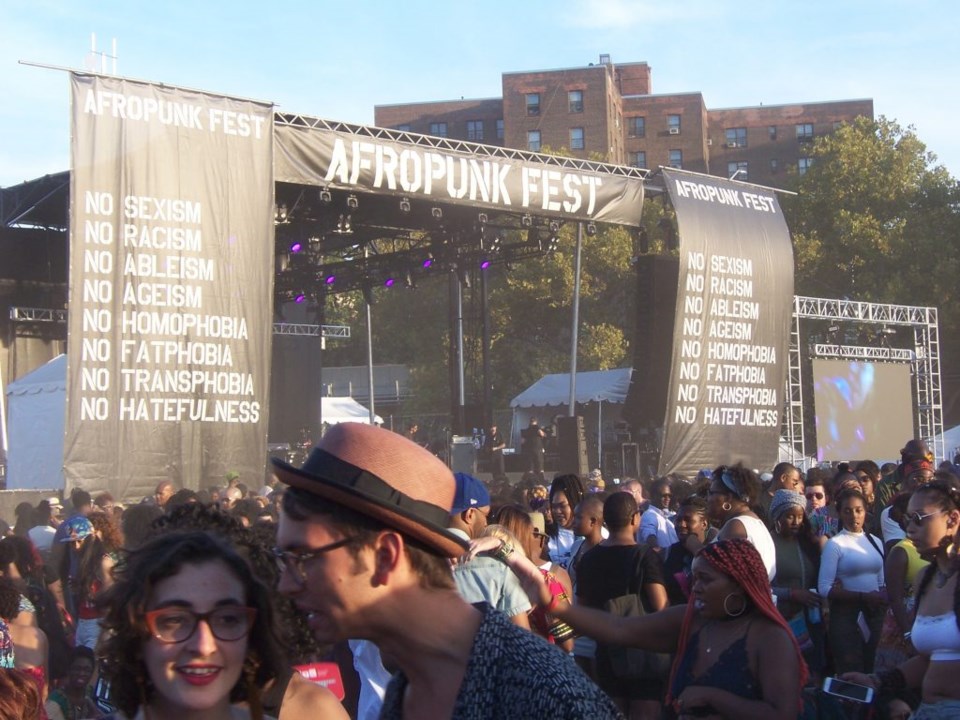 [perfectpullquote align="right" cite="" link="" color="" class="" size=""]"The festival, a "safe zone" for creative expression, is also a sounding board for socio-political issues affecting the black community, and everyone seemed to be in on it!"[/perfectpullquote]
A musical showcase of punk, funk and soul and an unbridled parade of cultural pride took front seat at the Afropunk Festival this past weekend in Brooklyn's Commodore Barry Park.
Drawing a crowd of more than 60,000 people, the festival-- a self-described "safe zone" for creative expression-- also has become a sounding board for socio-political issues affecting the black community. And everyone seemed to be in on it: festival-goers sporting t-shirts bearing slogans like "Kiss me, I'm African;" vendors offering free African head wraps; natural coifs and poofy weaves in cotton-candy colors on even the headlining music acts.
Beauty abound, from one end of the park to the other.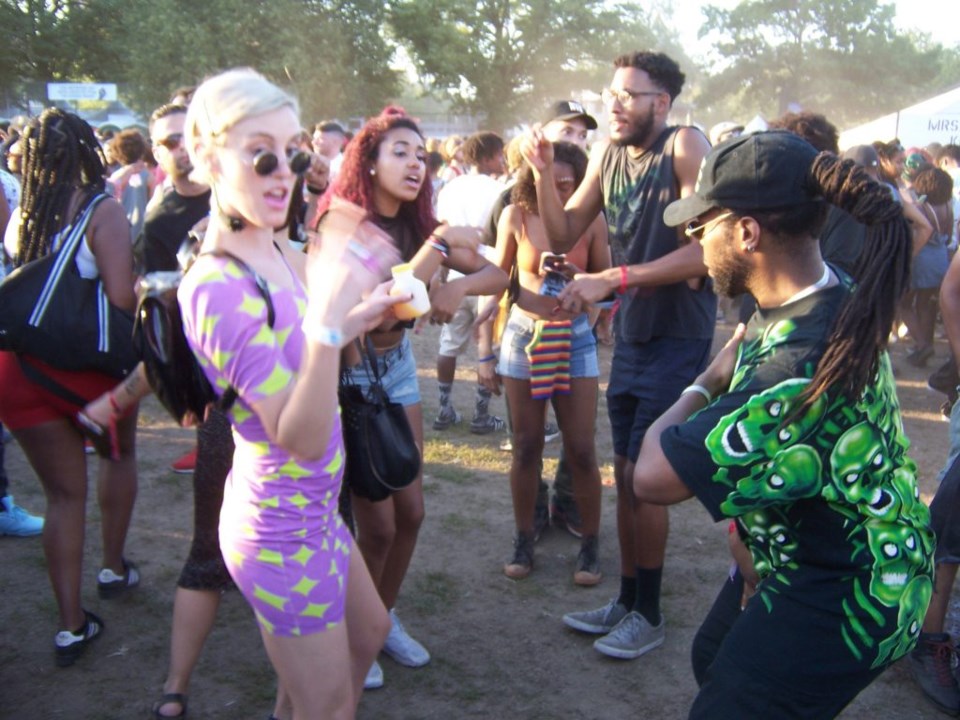 Per tradition, all four stages at Afropunk were flanked with banners declaring the ground rules: No Racism, No Fatphobia, No Homophobia, No Hatefulness...
Midway through a headbanging rendition of 'Fool For You,' singer-songwriter and headliner CeeLo Green asked the crowd, "Are we all feeling equal?" Taking the stage in a shimmering red-and-gold kaftan and reflective gold aviators, Green performed hits like his 2004 'I'll Be Around' to the anthemic chart-topper 'F--k You' and a surprise rendition of Pussycat Dolls's breakout song 'Dontcha,' which he wrote and produced in 2005.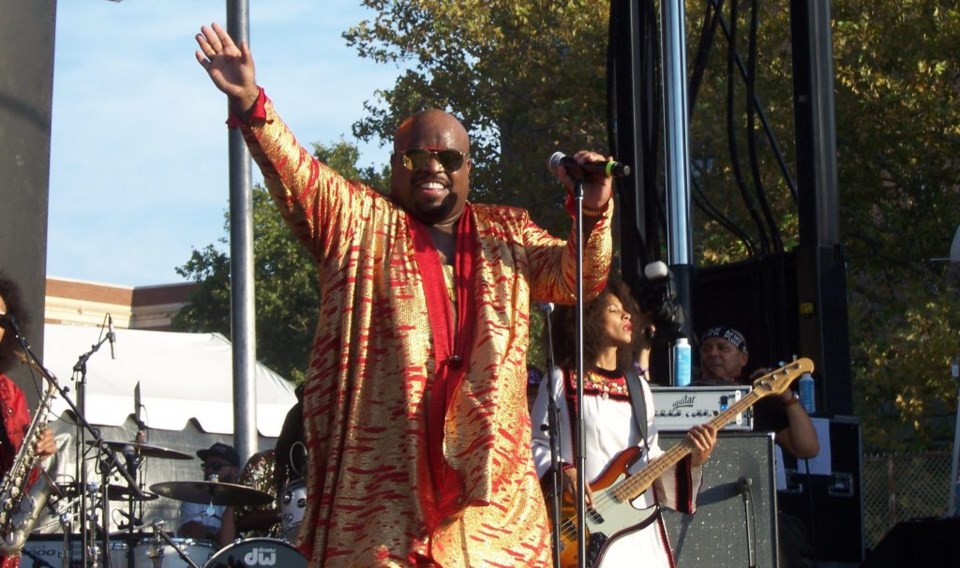 The full band combined with Green's falsetto vocals made for an earsplittingly loud set, but when Green bid the "freaks" in the crowd to "say yeah!" I couldn't help but feel I'd entered an everyone-is-welcome club with one awesome manifesto.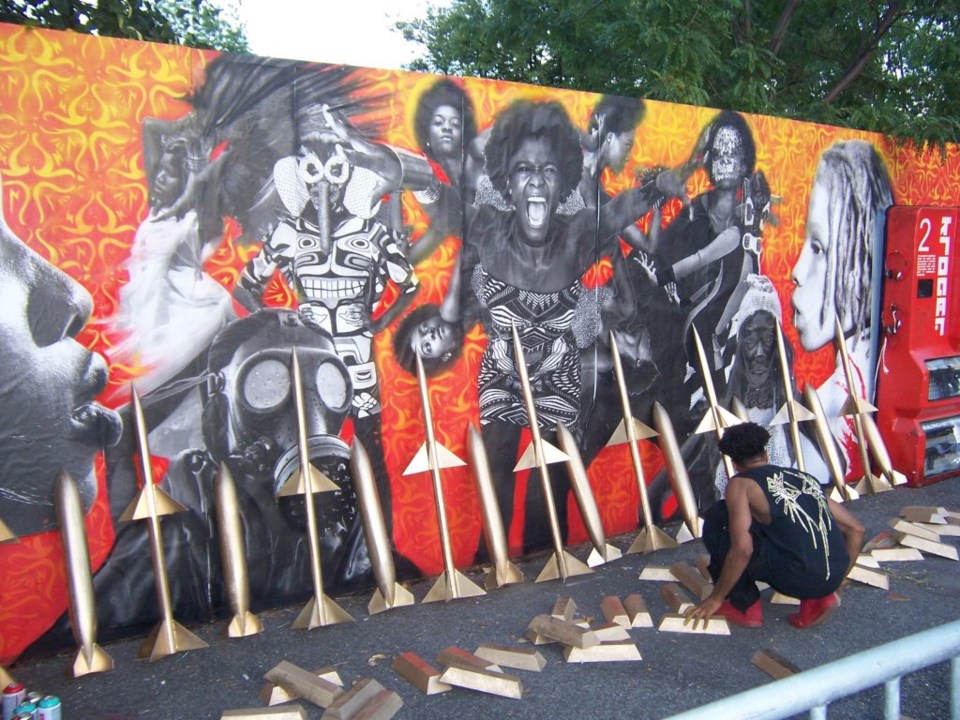 Championing anti-establishment without going off the rails is an art form, as Greenpoint-based artist Miguel Ovalle knows. On Saturday, Ovalle and artist Coby Kennedy were hard at work on their latest installation — a photography-based wall mural and modified vending machine dispensing Newport cigarettes, Philly blunts, knives and AK-47 machine guns.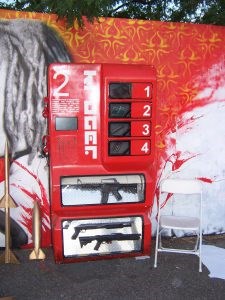 "Maybe who knows in the future you can go to a vending machine and get these things? That's how easy it'll be to get anything you want, to just do whatever you want," Ovalle said. These goodies, he explained, represent stereotypes of black neighborhoods. In another iteration for a predominantly Muslim neighborhood, Kennedy loaded the vending machine with Jihadi suicide vests, among other items.
As sunset approached, British gospel singer Laura Mvula took the stage sporting tribal face paint, opening with the soothing strains of 'Sing To The Moon.' Rarely one to write breakup songs, Mvula confessed she'd had her heart broken — "and it happened here in this very city. So I wrote this song called 'Kiss My Black Ass'," she joked as the crowd roared, breaking into a rendition of the lullaby-like 'Kiss My Feet.'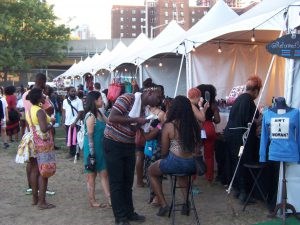 Awash with unique, Brooklyn-made wares, the SpendThrift Market showed off the best of the borough's maker community, featuring items inspired by African art, textiles and more. Haircare brand Dark and Lovely offered free braids — and festivalgoers were seen wearing t-shirts bearing the brand name as if it were a manifesto. Meanwhile, scentmaker Brooklyn Flavors touted an array of bespoke aromas named after Brooklyn neighborhoods. The Church Avenue scent wafted notes of papaya and coconut in homage to its islander population, while Fort Greene reeked of mint and fresh florals for its bevy of parks.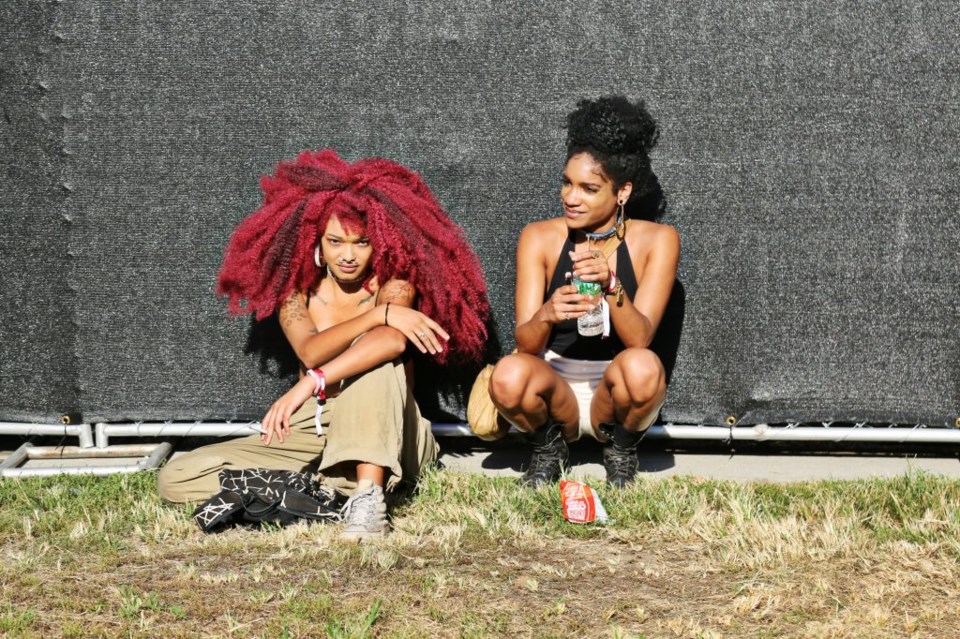 A fixture at every Afropunk, Activism Row showcased grassroots nonprofits that attempt to solve urgent community problems. In a bid to up voter participation at this year's presidential election, one nonprofit called HeadCount teamed up with Toronto-based artist Oluseye to encourage Afropunk attendees register to vote if they hadn't already done so.
The artist was at work on a live wall mural featuring the faces of Afropunk attendees — but only registered voters would be photographed and added to the wall. Those who weren't were directed to sign up online at the HeadCount booth on Activism Row.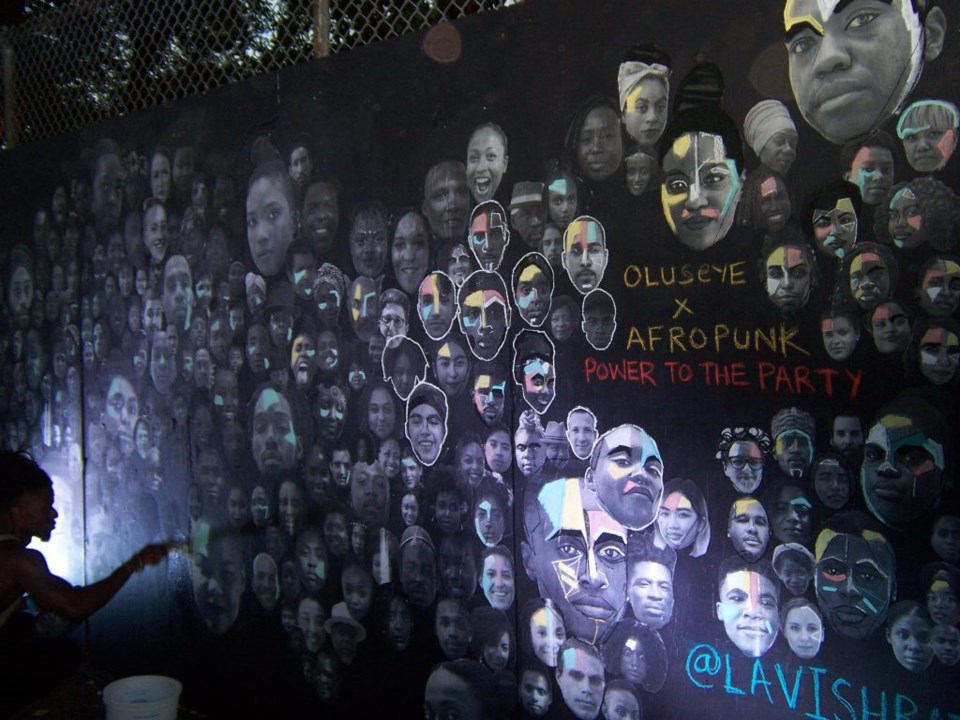 "This is here to remind us that your vote has power and even though you're here to party and have a good time, there's also this social empowerment aspect to why we're here and what our presence here means," Oluseye said.
Major brands made an appearance alongside the local mom-and-pops: ZipCar had a fenced-off arena where people could ride adult tricycles around a chalk circuit. Toyota, meanwhile, offered Afropunk attendees the chance to create their own mix CD featuring live soundtracks from the day's music acts:
"It's really about unity — and people of all races and from different places finding a community here," said Chloe Seabrook, a resident of Park Slope, attending Afropunk for the first time.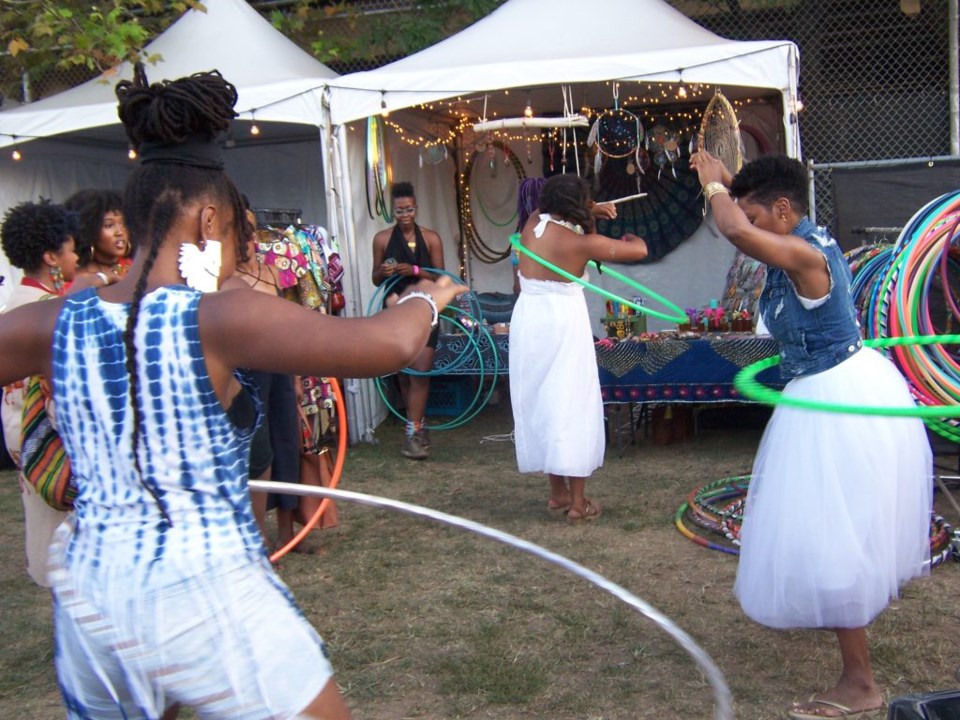 Chico Leo, host of geek culture podcast Fanbros, said that Afropunk 2016 was an excellent platform to reach their fans. Discussing pop culture from the perspective of underrepresented voices, the podcasts began from this premise: "Why aren't there any black zombies on The Walking Dead?"
"We've had the chance to meet some of our listeners here," said Leo, "and through our fans we now have a community of people who openly talk about the lack of representation [of African-Americans] in the media and so many other issues."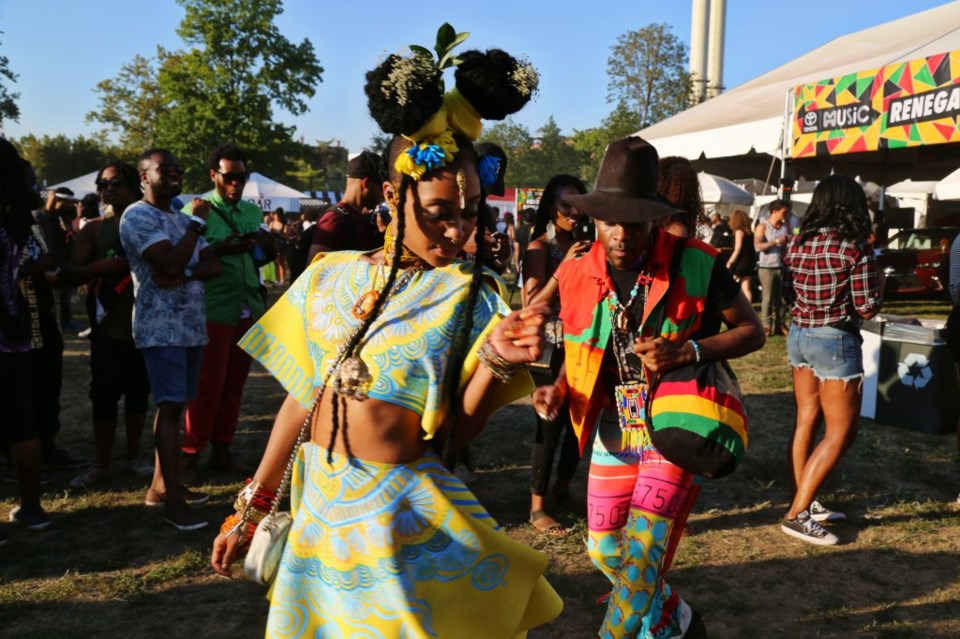 Overall, it's clear that Afropunk Fest has become the new standard bearer for people of African descent of what it means to push back on societal norms, introduce an entirely new set of rules and-- let's not forget-- create the soundtrack to bang them!
Long live counter-culture!
To see more photos from Afropunk Fest, check out our Brook-Lens post here.