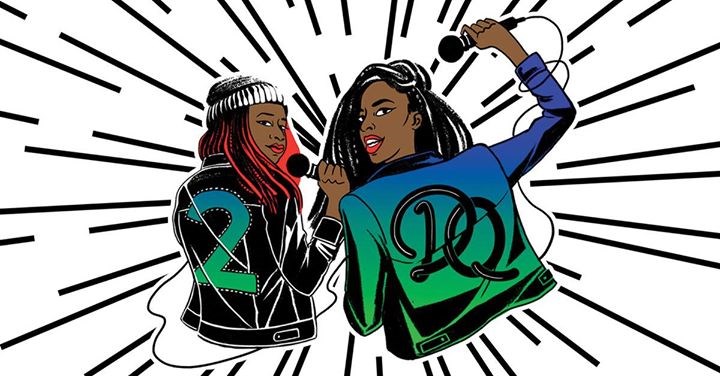 Yes, queen, yes! The hit comedy podcast "2 Dope Queens," featuring Jessica Williams and Phoebe Robinson, is taking over the stage at the Kings Theatre from Monday, October 23 to Wednesday, October 25. Each performance will feature different special surprise guests and will be taped for their forthcoming HBO specials to air in 2018.
"2 Dope Queens" is a weekly stand-up and storytelling WNYC podcast hosted by Jessica Williams and Phoebe Robinson. Since its launch in April 2016, the two ladies have been sharing their spotlight with their favorite female and LGBTQ performers, and comedians of color. The diverse and inclusive show features a wide range of serious and less serious topics including sex, romance, race, hair journeys, life in New York - and Billy Joel.
"For our show, people get to be the stars of their own stories and they get to be the stars of their own stand-up," said Williams. "It's really cool to give our friends, people of color and different orientations an opportunity to speak for themselves, and to be sort of the main character as opposed to being a side character."
Jessica Williams is a writer and performer who has gained critical acclaim with her performances in The Incredible Jessica James and People Places Things, HBO's Girls and the Upright Citizens Brigade comedy troupe. In 2012, Jessica joined the cast of Comedy Central's The Daily Show as the show's youngest correspondent.
Comedian, writer and actor Phoebe Robinson, named by Vulture, Essence, and Esquire Magazine as one of the top comedians to watch, has appeared on NBC's Late Night with Seth Meyers, Last Call with Carson Daly, Comedy Central's Broad City, The Nightly Show with Larry Wilmore and @midnight. She is currently a writer for Vulture and VanityFair, and is the author of the New York Times bestselling book You Can't Touch My Hair (And Other Things I Still Have to Explain).
The 2 Dope queens are amped for their not-to-be-missed HBO specials as Robinson expressed via social media.
"Thank you, Black Jesus, aka Oprah! This is what Sojourner Truth worked for," wrote Robinson. "I can't wait to tape these '2 Dope Queens' specials with HBO."
And neither should you! Tickets for all four shows are general admission and on sale through Ticketmaster and the Kings Theatre box office.
2 Dope Queens with Jessica Williams and Phoebe Robinson
When: Monday, October 23, 8:00pm | Tuesday, October 24, 7:00pm & 10:30pm | Wednesday, October 25, 8:00pm |$28
Where: Kings Theatre, 1027 Flatbush Avenue, Brooklyn, NY 11226