Enormous arched windows. A seemingly-undiscovered rabbit warren of treasures. A pastor up a ladder. And peeks of the sky through a patchy church roof.
The church-run thrift store Antiques on Bushwick at 1170 Bushwick Avenue just might be one of the most unique second-hand shops in Brooklyn.
On a recent Wednesday â€" as the voice of Nat King Cole boomed through a giant vintage amp â€" Restoration Worship Temple Pastor Owen Loftman was hard at work constructing a new Christmas section at the church's east end.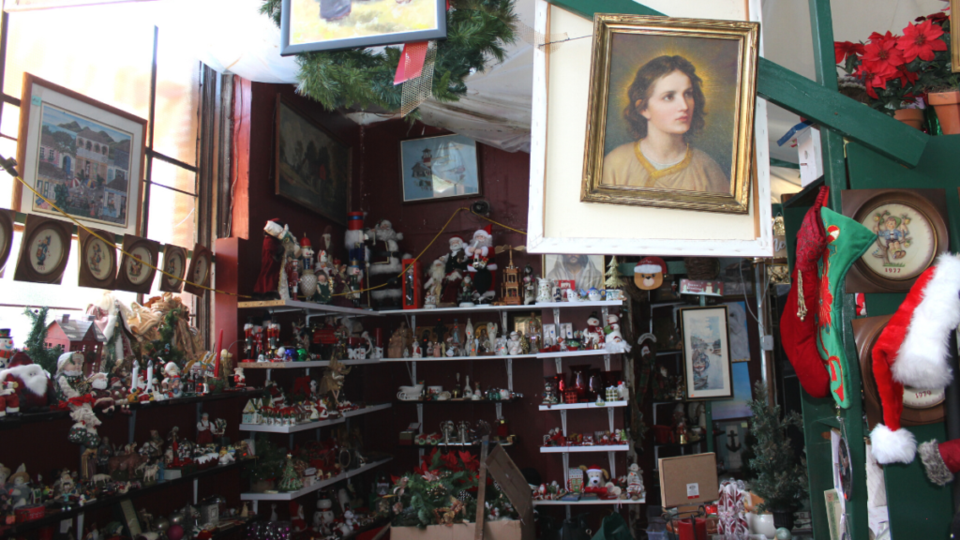 Loftman is drilling something, he's busy, and he doesn't have a lot of time to talk.
"I'm running in my head, there's so much to get done, it should have been done two weeks ago," he says by way of apology.
While the pastor may sometimes come across as gruff, he's got a lot on his plate. Plus, he's part of the charm of the place.
"The building is falling apart, so we have to find ways to raise money," Loftman says. "The place is a mess as you can see, so every moment is so valuable."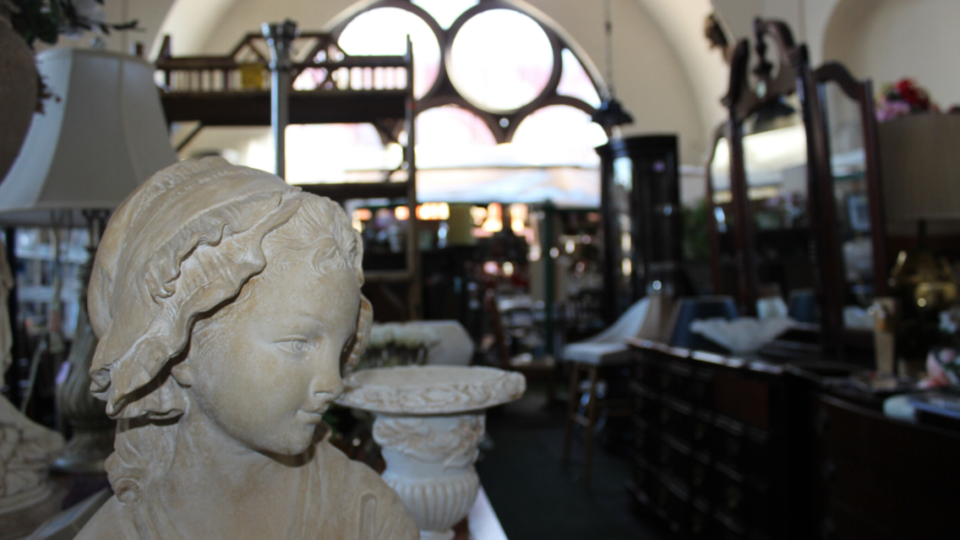 An idea to raise money
Right now, Loftman is busy organizing hundreds of Christmas decorations, nativity figures, wreaths and Santas of all shapes and sizes so the Christmas shop can open Friday.
When he's not doing that, he's driving around New York and interstate to buy items in bulk at estate sales, assembling and selling them at the store.
"I'm here eight days a week, working hard."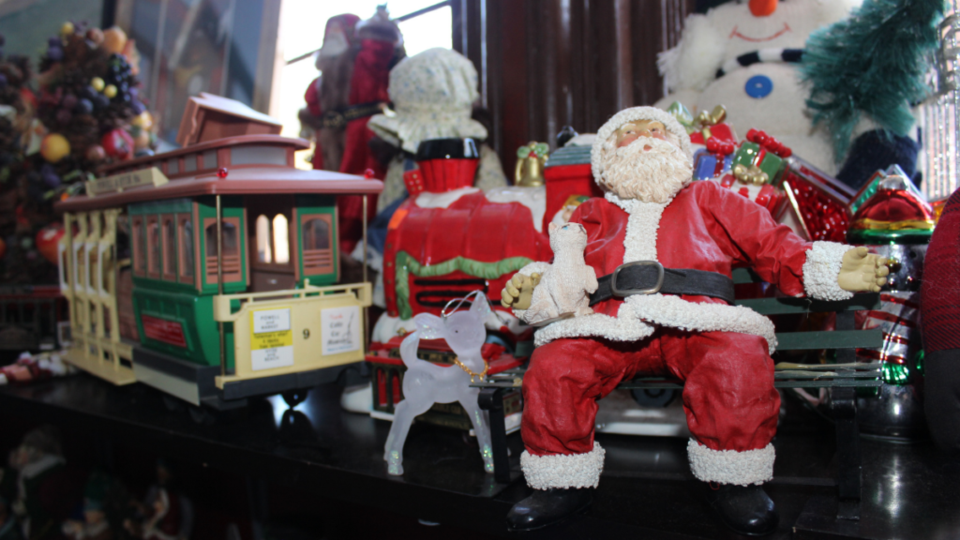 It's all part of the plan to raise enough money to repair the building, so the people of Loftman's church, Restoration Worship Temple, can gather in it once again.
The Temple bought the building in 2013 for its congregants to worship in. But four years ago, services had to move out temporarily, as the 19th century church fell into disrepair.
Instead of letting the space sit unoccupied, the Temple decided to open a thrift store in it in the meantime. Every dollar goes towards the mammoth amount needed to fix the church, Loftman says.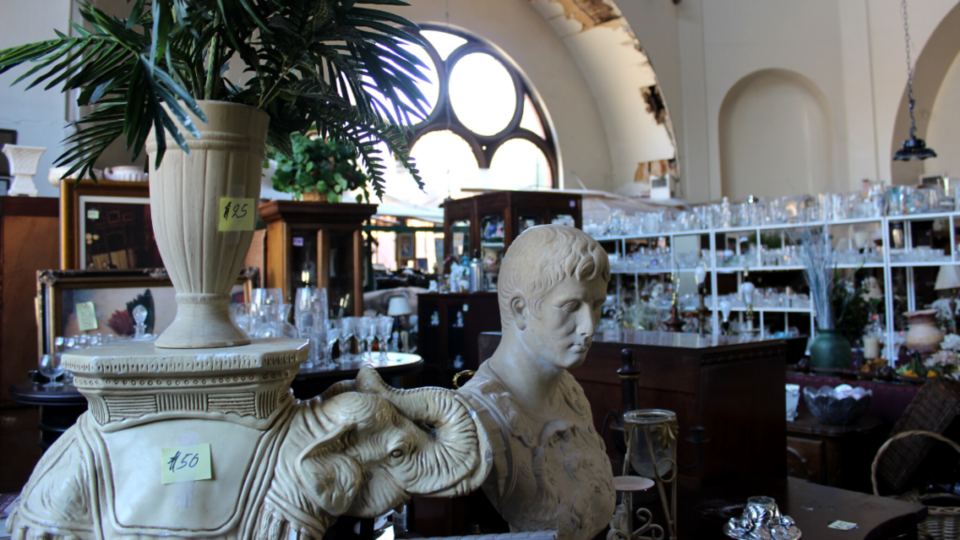 "We need half a million to fix the roof. We're nowhere near. I'm trusting God. I'm trusting Jesus."
The church has a long history. Built in 1896 as the Bushwick Avenue Congregational Church, later the Bethesda Memorial Baptist Church, it features high clerestory windows and a bell tower. It once had a basement with a bowling alley, and the interior was furnished in oak with the capacity to hold 750 people, Brownstoner reports.
Five days before Christmas in 1997, the church, at the time an "art-filled sanctuary," according to the New York Times, was gutted by fire. It has since been rebuilt.
Fixing the leak
Outside there are few signs that the grand old church, with its lovely Romanesque arches, is falling apart.
In the grassy front yard is a church letter board replete with the Temple's slogan: "The road to spiritual success is always under construction."
The sign takes on extra meaning when you go inside and realize you can see glimpses of the sky through the church building's dizzyingly high ceilings.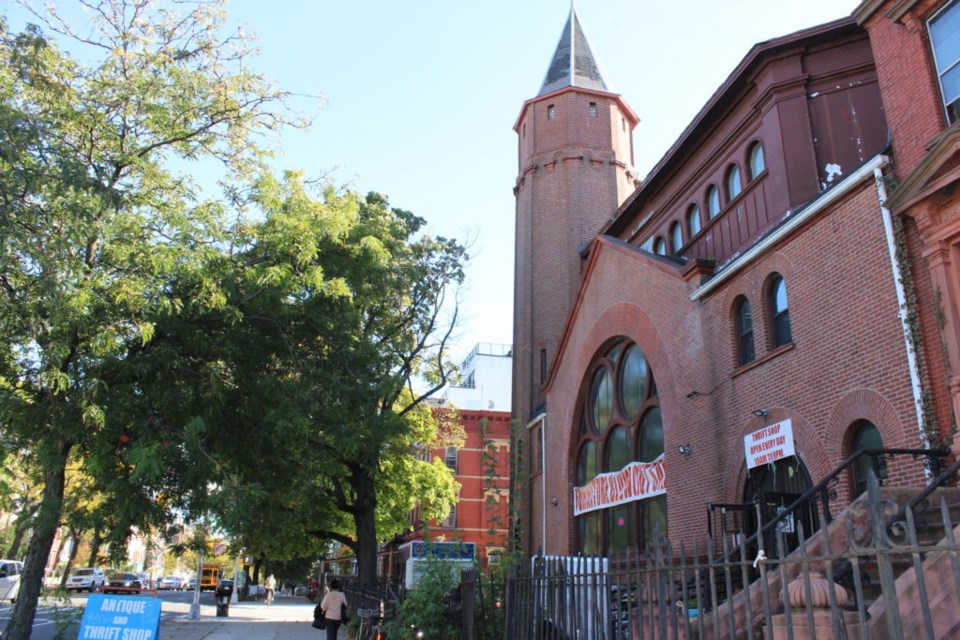 "Does it leak? It's like the Niagara Falls in here when it rains," Loftman says.
As a result, the whole Christmas display is tented in a tarpaulin, as it sits flush under one of the biggest areas of damage.
As well as fending off leaks, Loftman says he also has to fend off property prospectors.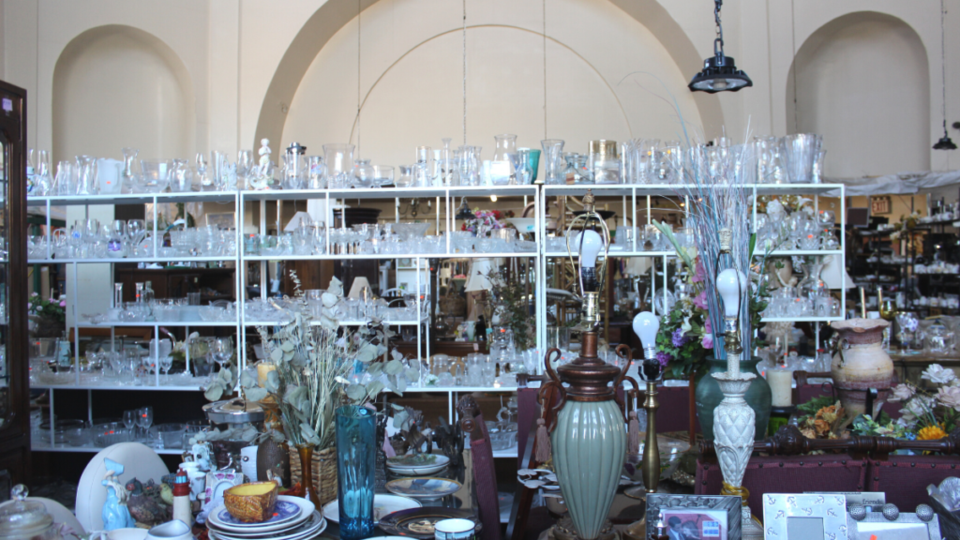 He say developers have tried to come for him, and even the City "wants to steal the darn building."
The church is behind in its taxes, and that's why every sale counts right now. When asked what the community can do to help, Loftman is straight to the point.
"Come and shop."
A giant treasure trove
Loftman may have more experience in the pulpit than in the auction houses, but the store is a thrifter's paradise.
Enter the church's opening archway, go through a tangle of books and hats, and you'll find yourself among a rambling expanse of furniture, clothing, art, technology from throughout the ages, glassware and nick-nacks.
There is no space unused. A potted-plant rides a ceramic elephant, next to a bust of Caesar. There are boxes of sunglasses, boxes of shells, boxes of 8-track tapes.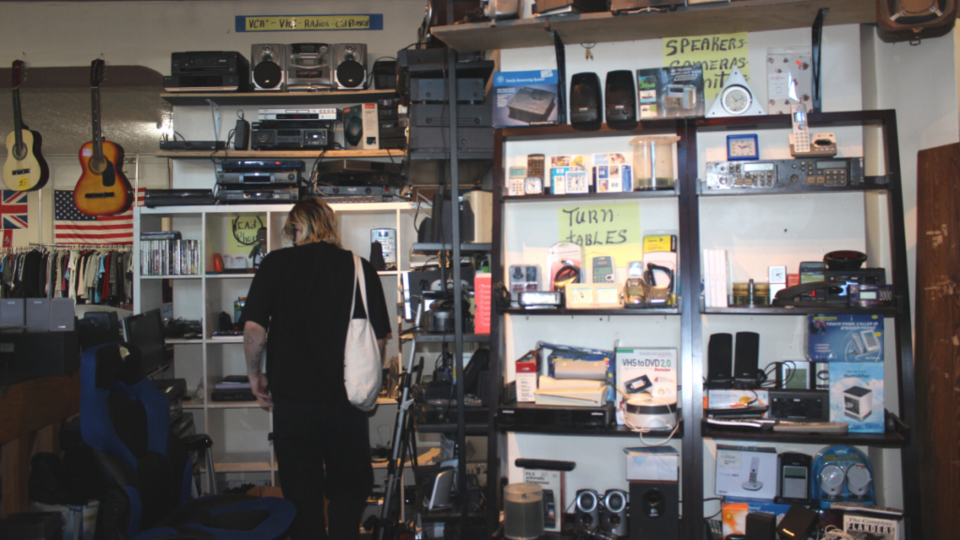 On the vintage amp are perched two kitchen mixers. To the left, a wall of printers, fax machines, type writers and cassette players.
There's four industrial-style chairs upholstered in ochre leather, $10 each. A wicker basket of assorted bells.
To the north, a wall-sized painting of two cherubs is tucked behind a mid-century cabinet displaying porcelain figurines, including an 1844 statuette of a British Army captain, in perfect condition, and a decorative plate with the words, "To Mother."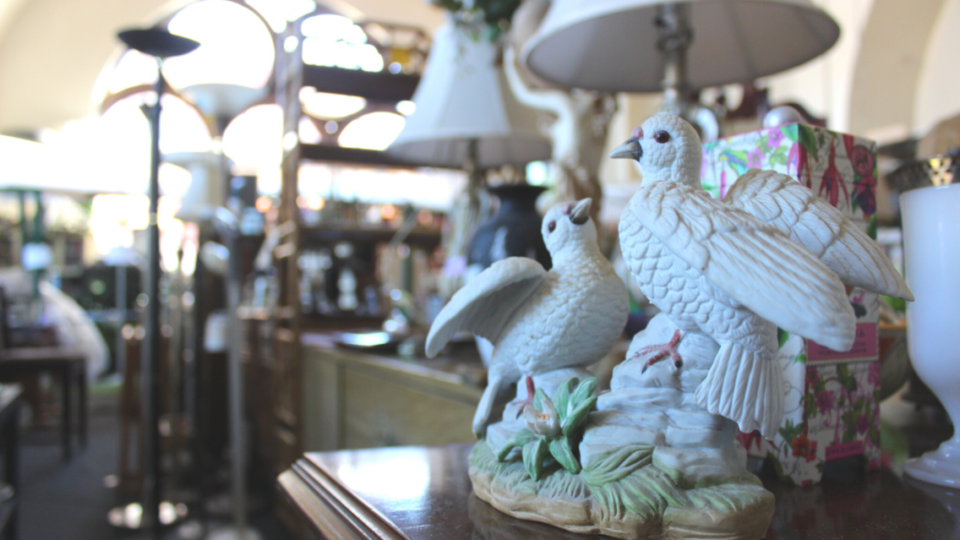 And that's just scratching the surface. Loftman says he doesn't have time to research how much items are worth, and he doesn't want to price anything too high in case people don't buy it.
"Everyone is looking for a deal. And if they find a fortune, they're not going to tell me."
However, the church is grateful for every sale. The thrift store is open every day from 10:00am to 9:00pm. The Christmas shop opens this Friday, Oct. 22.